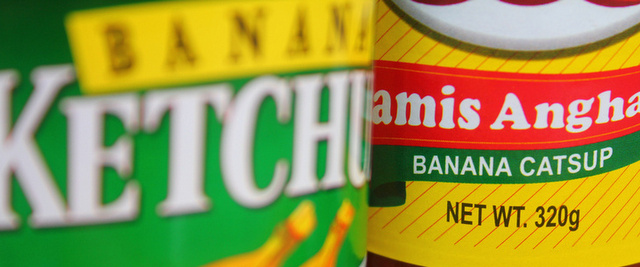 It doesn't matter if you are visiting in a native house, in a condo, in a bungalow or in an exclusive mansion, you will find one product of the Philippines on every table. Banana Ketchup! Jufran is the brand of choice but there are about a dozen different brands of banana ketchup. It is a household staple.
If you have never tried banana ketchup, you may ask yourself, "What would I put it on?" The answer is simply, "Everything!" Have you ever tried Filipino Spaghetti and wondered why it is so sweet? It is because instead of tomato sauce and/or tomato paste, banana ketchup is the ingredient. You will also find cut up hot dogs in Filipino Spaghetti and instead of Parmesan Cheese, it will be topped with Kraft Eden Cheese!
One of the very first Filipino restaurants where I dined 28 years ago in Metro Manila was Max's Restaurant, The House That Fried Chicken Built. Max's was born way back in 1945 when Maximo Gimenez befriended US GIs and he prepared fried chicken for them in his home. Word of this great fried chicken spread and Filipino's were showing up at Maximo's home to buy and eat fried chicken! Max's opened his first small restaurant in Quezon City and today, there are many Max's Restaurants in Luzon, the Visayas, Canada and in the USA! At every Max's Restaurant where I have dined, both in Luzon and the Western Visayas, I found a bottle of Jufran Banana Ketchup on every table!
Why Banana Ketchup?
Banana Ketchup was first made in the Philippines during World War II  due to the lack of available tomatoes. There was a surplus of bananas and Maria Y Orosa is officially credited as making the first banana ketchup using mashed bananas, vinegar, sugar and "secret spices." It was an instant hit and more than 70 years later, many Filipinos prefer banana ketchup over tomato ketchup!
I use banana ketchup at home and in some restaurants, depending on what I order because it is part of the Filipino Culture and I acquired a taste for it. However, I still use tomato ketchup on French fries, burgers, a few other items and when making cocktail and BBQ sauce. I have tried the other brands of banana ketchup in the Philippines but as far as I am concerned, Jufran is the best! Jufran introduced a hot and spicy version of banana ketchup a number of years ago and it is still on the market, for those who like it hot!
Yes, we have a bottle of Jufran Banana Ketchup on our table at home and I especially like it with fried chicken. Thanks to Max! If you are not in the Philippines yet, you can buy Jufran and other Philippine brands of banana ketchup at most Asian grocers. If you are already in the Philippines, you can buy banana ketchup in all the supermarkets and even in some of the small sari sari stores. You can try some today! Will you?
You Might Also Like...