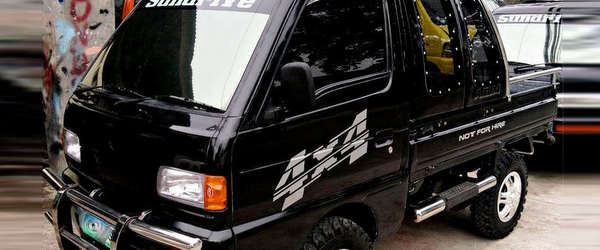 One of the most popular vehicles you will see on the streets and roads in the Philippines is the Multicab. This is the workhorse of the Philippines, as it is very diverse and can be used commercially and privately for transportation. It is also very affordable and the parts are cheap to replace when needed. We bought a Suzuki Multicab in 2009 and this is what I learned to drive in while first living in the Philippines. Oh, I had been driving since the late 1960s but driving in the Philippines is a whole different ballgame! One must learn the Philippines Psychology of Driving, which is much different than in the USA.
The mulitcab is assembled in the Philippines with surplus parts from Japan and South Korea and you can easily have one made to your own specifications and design. Our Suzuki Multicab was customized and it is the pickup truck style. The normal price range for a newly assembled multicab is P150,000-P180,000. We paid P149,000 for our Suzuki Multicab in 2009 and with the exchange rate, that was right at $3,000 USD. You can get the multicab assembled as a 4X4, with air conditioning, big wheels, kicker sound system and just about anything imaginable. Your personal multicab is only limited by your imagination! Let it run wild!
It has been my personal experience that Cebu Sendai Motors and Sundrive Motors assemble the best multicabs. However, there may be others in different areas of the Philippines that turn out masterpieces when assembling your personal multicab.
The Workhorse
After about 6 months of my driving our multicab around the farm and on the roads and highways of the countryside, we upgraded to an Isuzu Crosswind SUV but our multicab has paid for itself several times over during the past 4 years. Yes, it is still in everyday service and has required very little maintenance! My youngest brother in law uses our multicab during his management of our farms. He has hauled rice, fertilizer and even a pig or two in it and he uses it for his personal vehicle.
One interesting idea is putting a portable rice mill on the back of a multicab and going to the rice farms at harvest time. The farmers can get their rice milled right on the spot!
Other than using on the farm, I have seen so many multicabs used for various commercial ventures in our area of the Philippines. I have seen the multicab assembled with a long bed and used as a small passenger jeepney. I have seen several multicabs used as traveling sari sari or convenience stores. Let the store come to you! Conversion to a rolling canteen is not difficult, complete with a gas grill for cooking up those yummy burgers and hot dogs with the works.
Add some heavy duty suspensions and you have a delivery truck for delivery of just about anything under the sun. Beer, soft drinks and 5 gallon bottles of drinking water are the most common things delivered in a multicab.
Other uses for the multicab include being used as a municipality ambulance, as a service vehicle for the maintenance crew and even a transport for local policemen.
The versatile multicab has become part of the Philippine culture! The liberal financing and affordable cost has allowed many more families to own their personal vehicle and the multicab has been a great innovation in business, where buying or leasing buildings is no longer required. The business is on wheels! Big wheels keep on turning in the Philippines, as people keep coming up with new ideas for using their multicab to not only transport the family but to also produce a family income. It is awesome!
You Might Also Like...