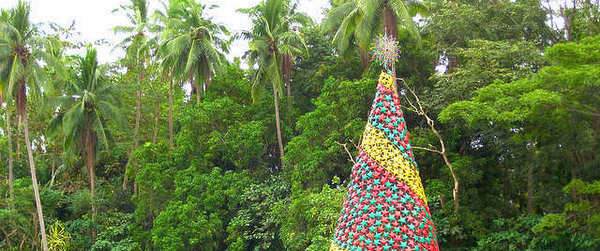 For me, there is no better place to spend Christmas and New Year than in the barrio! Nowadays, most villages in the Philippines are referred to as a "barangay," however, my wife's hometown is rich in Spanish history and many people still refer to the village as the "barrio." Our barrio is located about one hour south of Bacolod City and there is hardly a stranger unless they are lost! Or up to no good.
Celebrating Christmas and New Year in a mid-size or large city in the Philippines is much like celebrating the holiday season in your home country. The season is highly commercialized with Christmas Sales in malls, much holiday traffic, the hustle and bustle of last minute shopping and the feeling in some respects that it is not the real Philippines! This year, we decided to return to our happier festive moments when we spent our first two Christmas and New Year celebrations in the barrio, where our farm is located, instead of in the city. In the barrio, Christmas carolers are not barred from going house to house singing their festive songs, as in more and more subdivisions in the city. In the barrio, it is not uncommon seeing a large decorated Christmas tree among the coconut trees!
Noche Buena
Christmas Eve is the highly anticipated moment, kicking off the joyous family celebrations. After the evening church service, the stroke of midnight begins Noche Buena, the family feast, to usher in Christmas Day! Our family was no different and my wife and her relatives had been preparing food all day. We had an imported American ham to add to the feast this year and imported Chilean red wine. No, it was not as expensive as you may think and even if it were, Christmas only rolls around once a year!
There are many Filipino dishes that are traditionally served during the Noche Buena but several are more familiar among expats, including cheese balls, hams, fruit cakes, sweet potatoes, spaghetti, fruit cocktail and southern style fried chicken. I made a pot of two bean chili, which everyone enjoyed, only over rice! In our family, gifts are opened after everyone has stuffed themselves during Noche Buena. Our 8 year old son received what he wanted, a new tablet! He was so happy and as his parents, so were we.
A Christmas is not Christmas in the barrio without karaoke! With many relatives dropping by, we had plenty of singers. It was around 3:00 AM when everyone was tired and ready to take a rest before the actual Christmas Day Celebration, beginning at lunch time.
Twelve Days of Christmas
Our family Christmas began December 24 and it is still running! Our celebration will end on Saturday, January 4, so we still have time for more festivities. Since we have several things going on in the city, we had to take two breaks from the barrio to return to the city and take care of a few things. We also have family and friends in Bacolod, so our home here was also the site for a few holiday festivities before returning to the barrio. Since Christmas Eve, it seems like a whirlwind to me!
New Year's Eve also involved a large family feast but not as large as on Christmas. We had much of the same food dishes, only instead of ham, I introduced a few steaks and Buffalo Wings! Fireworks are very popular in the Philippines during New Year and we also had fireworks but nothing dangerous as the famous "Goodbye Philippines" explosive fireworks. A cherry bomb from the States is mild compared to it!
In our barrio on New Years Day, many families go to one of the many beaches to spend the day. It is traditional. Swimming, beach volleyball and more karaoke are among the favorite activities. Yes, the beach nipa huts have electricity and people bring their own monitors and Magic Mic for sing-a-long. Having a family barbeque is also usually included during the beach outing. Fish, shellfish, chicken, pork and goat are all popular for grilling.
If you ever spend one Christmas and/or New Year in the barrio, located in a rural area of the Philippines, it will indeed be an experience you will never forget. The love and closeness of the family are really revealed and it can be an emotional time. Almost without failure, if there is an estranged family member, all is forgotten and forgiven during the Barrio Holiday Season! Families are united and they all look forward to even a better year ahead!
(Visited 660 times, 1 visits today)