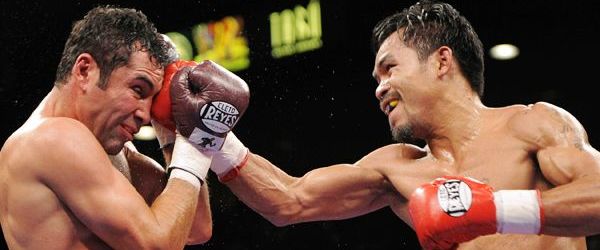 Sports fans often just want to catch a game, no matter where they are. If if involves something you can bounce, pass, shoot, kick, throw or catch, there's a chance you'll find people who want to watch it from the stands or on TV. It's no different in The Philippines.
When most people think of Pinoy sports, Manny Pacquiao comes to mind first. Pacquiao is a world champion boxer who also represents Sarangani province in the Philippine Congress. "Pac-Man" seems like one guy you don't want to argue with on the House floor.
Pacquiao is wildly popular at home and his sport has held a large presence in the country for decades. Three Filipinos currently world champions while 37 in all have held titles since 1923, and fighters from there are respected throughout the boxing world. Many people follow the "sweet science" in The Philippines, but it's not the most popular sport.
Many outsiders are surprised to learn that basketball is the favorite spectator sport in The Philippines. While Team Pilipinas has no medals to show for seven appearances in the Summer Olympics (the last in 1972) and producing no NBA players, although ex-Golden State guard Raymond Townsend's mother was a native of Batangas, basketball is very well-developed and supported among the Pinoy. The Manila-centered Philippines Basketball Association has ten pro teams with rosters dotted by imports, including ex-NBAer Renaldo Balkman, who became notorious last spring for choking a teammate. Unsurprisingly, he's now banned from the PBA. More than 21,000 fans packed Quezon City's Araneta Arena for last year's Game Seven of the Governor's Cup. The college game also has a strong following around the country, with another 20,000 on hand in Araneta Arena for the 2012 UAAP men's final. Women's basketball is played collegiately as well, but past attempts to establish a women's pro league have failed.
Heading outdoors, soccer is commonly played in The Philippines as it is everywhere else. The men's national team, known as the Azkals (or "Street Dogs"), has represented the country internationally since 1913. The Azkals include a number of foreign-born players with Filipino roots, but they've never qualified for the World Cup. Domestic pro soccer has lived a fitful existence over the years. The latest incarnation, the United Football League, began in 2009 and features 20 teams evenly split between two divisions. Matches are not that well-attended, but the AKTV network provides exposure in homes by televising two games per week.
Another sport played in the PI is baseball. San Francisco Giants star pitcher Tim Lincecum has Filipino grandparents, but the game itself has never been highly prominent in the islands despite a presence dating back to 1934, when 10,000-seat Rizal Baseball Stadium in Manila was opened. That year, no less than Lou Gehrig and Babe Ruth hit the first-ever homers at Rizal when barnstorming major leaguers played exhibition games there. The New York Yankees played games against Filipino teams at Rizal in 1954, and more recently an amateur league called Baseball Philippines played two competitions per year beginning in 2009, but discontinued after 2012. College baseball has been around since 1938, with Ataneo de Manila University winning their first national title this year.
College athletics in general have been a constant companion of Filipino fans for over ten decades with two organizations, the University Athletic Association of The Philippines and NCAA Philippines (not related to a similarly-named American organization), simultaneously overseeing a total of 18 universities playing over two dozen sports during the year.
One sport unique to The Philippines is a martial art known variously as eskrima, arnis and kali. Eskrima can involve fighting with rattan sticks, knives, swords, shields, whips (!) and good old-fashioned hand-to-hand combat. It originated as a form of warfare and, as you might guess, is not for the faint of heart. Eskrima, like karate and judo, is also a very effective means of self-defense and was designated the country's national martial art and sport in 2010.
While sports in The Philippines generally have neither the scope nor support you'll find in many other countries, if you want to watch someone bouncing, passing, shooting, kicking, throwing or catching a ball, you can still scratch your itch here. Pinoy teams won't play at the same level as in the USA, but you won't have to sell your children on the black market to afford tickets, either. As a fan myself, I think that's more than a fair enough trade-off.
(Visited 1,467 times, 1 visits today)