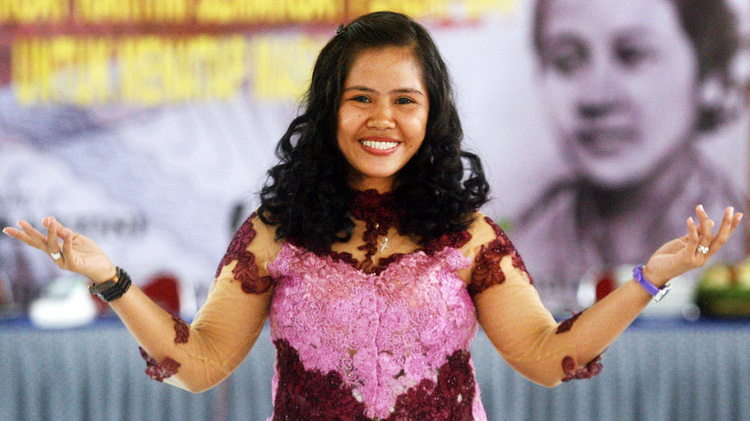 The guns were loaded, checked and re-checked by the executioners. The firing squad was ready to execute a group of convicted prisoners known as the Bali 9 on Execution Island, Indonesia. Among the Bali 9 was a 30 year old Filipina, who had captured the world's attention… Mary Jane Veloso.
In the midnight hour last Tuesday, the impossible happened. A miracle occurred. Mary Jane Veloso received a last minute reprieve by the Indonesian government. The other prisoners were not so lucky as they were all executed by firing squad.
Flashback to 2010
Imagine the excitement of a new job in another country, with a much higher salary than you could ever make in the Philippines. With two small sons and being a high school dropout, Mary Jane was excited to be working once again. She had worked 10 months previously in UAE but due to an abusive employer, she returned home to the Philippines. However, Mary Jane needed to land another job abroad ASAP.
A neighbor and a family friend, who I will refer to as Christine, saw the plight of Mary Jane and she offered to help her. Without going into greater detail, on April 21, 2010, Mary Jane Veloso and Christine traveled to Kuala Lumpur, Malaysia. They were there 3 days and lodged at the Lagoon Hotel.
Mary Jane's job was to be in Indonesia. She was traveling with only a few pairs of jeans and a few tops in a backpack. Christine and Mary Jane discussed the details of the trip. Christine agreed to help with buying Mary Jane more clothes, personal hygiene items and a new suitcase.
On April 25, 2010, Mary Jane Veleso arrived at the airport in Indonesia. This is when the nightmare began and hell was unleashed upon Mary Jane. The X-Ray machine picked up something inside the suitcase Mary Jane was carrying. She was asked to put it through the machine a 2nd time. The airport security asked permission to cut the suitcase and Mary Jane gave permission. Hidden, but not well enough, was over 2 kg of heroin, wrapped in aluminum foil. Mary Jane was arrested.
Mary Jane had no idea there were drugs hidden inside her suitcase. Reality hit her while she was in jail. She hated herself for trusting Christine.
Mary Jane was convicted and sentenced to death. Reportedly, during the trial, she was not allowed a translator, so she could fully understand the proceedings in her own language.
I Accept My Fate
During the last days leading up to Mary Jane's execution, her family was allowed to visit her, including her parents. I was personally touched and heavily moved by seeing the photos and reading the stories concerning what was perceived as the last days of Mary Jane Veloso. Mary Jane tried her best to explain to her children that "Mommy won't ever be coming back home."
Mary Jane accepted her fate. She stated, "If God wants me to live, I will live."
In the meantime, the clock was ticking.
Worldwide Support
The UN Secretary General, Ban-ki Moon, had spoken out publicly against the executions in Indonesia. In a matter of hours, 139,000 people signed an online petition asking for mercy for Mary Jane Veloso. In Makati, Philippines, hundreds of people camped outside the Indonesian Embassy, day and night, in support of sparing the life of Mary Jane. Many Prayer Warriors and religious organizations sent out millions of prayers on behalf of Mary Jane Veloso. I am not ashamed to say, I was one of them for days.
Behind The Scenes
A few days before the execution, one of Mary Jane's employment recruiters and handlers, Maria Sergio, turned herself in to the police. She was in fear for her life. Many knew her responsibility and involvement, which led to Mary Jane's nightmare, and death threats were issued.
While at the ASEAN Summit in Malaysia the day before the execution, Philippine President Aquino spoke privately with Indonesian President Widodo, on behalf of Mary Jane Veloso. However, her 2nd appeal in court was denied.
The Philippine Dept of Justice was putting together a case,around the clock, against the employment recruiters and their involvement with a large Asian drug syndicate. Mary Jane Veloso was a victim of human trafficking and she had information to help bring down the recruiters and the drug syndicate. Mary Jane Veleso was declared a Philippine State Witness.
It is reported that President Aquino made one last call to Indonesian President Widido, right before the midnight hour, in a plea for Mary Jane's life.
New Day
The word out of Indonesia is that Mary Jane Veloso may still be executed one day in the future. However, at least the Indonesians are willing to let the entire legal case play out before making a decision. There is still hope for the life of Mary Jane.
The plight of Mary Jane Veloso lives on and the Prayer Warriors are still praying. There are many Mary Janes, so we cannot ever forget them either.
Many Filipinos have been involved over the years in duping their Kabayan into carrying bags with hidden drugs into other countries. In China, there are 19 Philippine citizens on Death Row for drug related charges.
The drug mules are the ones who pay the price with their lives, not the ones who set them up. Something is wrong with that picture.
(Visited 1,048 times, 1 visits today)