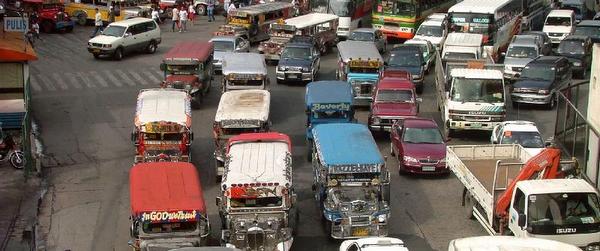 You can drive all the way from Luzon to Mindanao, although I have never tried it and never plan to! Much of your trip will be with your vehicle on a RoRo upon the seas of the Philippines. I have been on a RoRo from Bacolod to Dumangas, Iloilo with our family vehicle, along with the San Miguel Beer delivery truck, the Gardenia Bread delivery truck and an assortment of other vehicles on the large ship. It can be fun. Don't worry, as you don't have to sit in your vehicle aboard ship the entire trip but you can relax in the passenger area, either inside or outside on the ship. The outside has a good view, is cool and windy. Not advised sitting outside, however, if the movement of the sea makes you seasick! Avoid at all costs. Inside, you can watch a free movie, have snacks from the canteen and even knock back a few cold ones. That is where I enjoy riding on the RoRo! Inside.
No Sunday Picnic!
Once you arrive with your vehicle from one of the other islands, I hope you have experience driving in the Philippines! If not, this is hazardous to your health! Driving in the Philippines is not like driving back home unless back home is another area of the Philippines. People drive the same in Bacolod as they do in Iloilo. No problem there. However, in Metro Manila, get ready for the largest traffic jam you may ever encounter! If you are driving on one of the expressways in the Manila area, get ready to dodge Kamikaze drivers! Many indeed drive like the Spirit Wind. Don't get in their way.
In Negros Occidental, you will see a lack of traffic lights and stop signs. If you are coming out of a side road in your vehicle and want to make a left hand turn onto a busy main street, you have to edge forward slowly, block traffic and make your turn. That is how it is done here. If you are going to follow the traffic laws and rules back home, you will be sitting in your vehicle until hell freezes over before you are able to make that left hand turn, if you do not do as the locals do!
If you flash your headlights to other drivers, this means you are taking the right of way and going full speed ahead. Watch out because here I come!
Unless you have cat eyes, I do not recommend driving at night in smaller and mid-size cities. The street lighting is very poor and there are many dangers ahead that you will not see until it is too late! Trikes without lights or reflectors, pedestrians crossing the street in dark clothing, pedicabs without lights or reflectors, animals darting across the street and even vehicles on the streets without lights. Some locals believe that using your vehicle lights increases the use of fuel! Believe it or not!
Driving in Bacolod is not normally stressful for me. As soon as I pull out of my subdivision, I already know that someone is going to pull out in front of me without stopping, someone else will probably cut me off, I will see a carabao or carabao cart on the street before I get to the main road, a chicken or chickens will be on the road, jeepneys are going to stop abruptly and block traffic, a vehicle will be parked on the street somewhere along the way and also blocking traffic, slow peddling pedicab drivers will slow down traffic, people will be milling around on the streets as they have extended their living rooms, a dog will run out in front of me, what else? Always expecting the usual and the unexpected when I drive. No stress. Those who do not adapt, perish!
I practiced driving the Filipino way and I was very observant when riding in vehicles driven by others. After 6 months of learning the Psychology of Driving in the Philippines, I was ready to take off. Personally, I enjoy driving in Negros Occidental and I was confident from Day One when I first hit the road, you know… the one, the road that goes on forever!
You Might Also Like...
(Visited 1,501 times, 1 visits today)