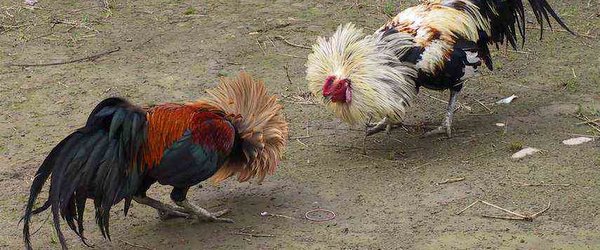 Some foreigners call it a blood sport and say it is inhumane. Others perceive it as one of the favorite pastimes of the Philippines as it is, a very popular activity in a different culture. Whether you detest cockfighting, can tolerate it or if you enjoy watching it and getting caught up in the excitement, cockfighting is here to stay in the Philippines.
Cockfighting is not limited to only the Philippines, as it is also popular in most southeast Asian countries. It is also popular in India, as well as in some countries in Europe and in South and Central American countries. I am not a boxing fan, so personally, I had rather watch a cockfight than to watch two human beings beat each other to a bloody pulp in the boxing ring. Just my personal feelings.
One of my brothers in law has 10-12 prize fighting roosters and he is very proud that their bloodline has produced champions in the sabong, or cockfighting arena. He gives the fighting roosters very special care, making sure they are well fed, given vitamins and protected during the rainy season. Breeding and raising the prize fighting roosters is part of my brother in law's livelihood. Betting on fighting roosters during the many cockfights held annually is part of the Philippine Culture. Every barangay or village sponsors a Cockfight Derby or Cockfight Cup several times every year. It is a big business! San Miguel Beer and Asia Brewery compete in their sponsorship of the major cockfights held throughout the Philippines.
I am not going to get into all the bloody details about a cockfight but basically, each fighting rooster has a single edge blade or the double edged blades attached to their left leg, depending on the rules of the cockfight on that particular day. Some cockfights are more wide open and blades can be attached to both legs if that is in the official rules on that particular day.
National Pastime
Many Filipinos love boxing, basketball and soccer but cockfighting is regarded as the National Pastime! It is ongoing and year round with many participating in backyard operations of raising and training fighting roosters.
Araneta Coliseum in Quezon City, Metro Manila, hosts the bi-annual World Slasher Cup, where gamecock breeders from around the world gather for a stake in the action. Does it surprise you that not only Filipinos are involved in cockfighting? Many foreigners are also involved in cockfighting in the Philippines since the sport is often illegal in their home countries. It is a big business in the Philippines. It is also considered entertainment by many.
I was very surprised to learn, when my family and I moved to the Bacolod Area of the Philippines in 2009, that one of our teenage nieces was a local expert in handling fighting roosters. She helped her dad train them and also helped in giving the fighting roosters excellent care.The fighting roosters are allowed to spar while they train, without the sharp blades attached to their legs.
Negros Occidental is one of the more famous islands in the Philippines for breeding prize fighting roosters and it is a big income booster here in the area. People from all over the Philippines come to Negros Occidental to purchase prize fighting roosters and to attend the many Cockfighting Derbies and Cockfighting Cups.
Do you have the guts to attend a cockfight in the Philippines?
You Might Also Like...