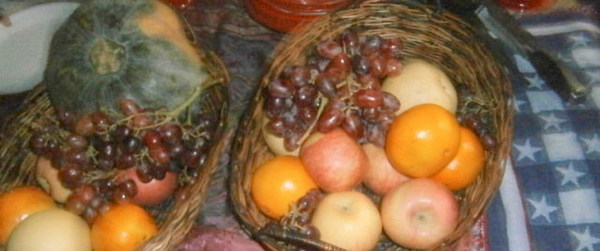 Several days ago, an American friend back in the States seemed confused when I was talking about our Thanksgiving Festival, which was upcoming. He did not believe that there is Thanksgiving in the Philippines. Well, there most certainly is! This is our 5th Thanksgiving in the Bacolod Area of the Philippines and as always, we all had a blast!
There are more than 300,000 US Citizens living in the Philippines, according to the most updated statistics of the US Department of State. Thanksgiving is alive and kicking in the Pearl of the Orient! Some cities with large expat communities get together for Thanksgiving and I have friends who enjoy this type celebration. For me, I enjoy our Thanksgiving Festival at our home in Bacolod, which has been a tradition since 2009. I introduced Thanksgiving to our Filipino family and friends during our first Thanksgiving here and it is no longer viewed as an American holiday. It is annually viewed as a Fiesta in our area of the Philippines!
Every major supermarket in Bacolod City, such as Super Metro, SM and Robinsons, sells turkeys this time of the year and some smaller supermarkets, such as Save More and K-Mart also sell them. A few sell turkeys year round! Butterball and Norbest are the two brands of turkeys that are available in the Bacolod Area. Many Filipinos who spent time in the USA celebrate Thanksgiving in the Philippines. Last Sunday at Super Metro, I saw a Filipino family buying a large Butterball turkey and they appeared excited!
Lechon Turkey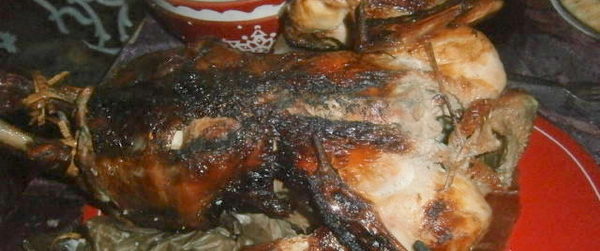 The above photo is our turkey when it was first uncovered from its banana leaves wrapper. Our turkey was prepared the famous Philippine lechon style! I really enjoy the famous lechon style of roasting and BBQ in the islands but mostly you will find lechon chicken and lechon pork. I hit on the idea back in 2009 to prepare our first Thanksgiving turkey in the Philippines local style, lechon. I bought a 10 pound Butterball Turkey this year, two weeks in advance, and Thanksgiving morning, we took the turkey to a Filipino friend, who is a local expert in lechon. The turkey was stuffed with lemongrass and garlic, a skin rub of herbs and spices was added, a basting sauce of brown sugar, lime juice and soy sauce was prepared, the turkey was put on a bamboo pole and roasted over hot coals. Marvelous! Fantastic! The skin of the turkey is crispy and the meat is so tender and juicy. Wow!
The only dish on our Thanksgiving table that may have been different from the tables back home is the plain white rice, which is a staple with every Filipino meal. Sweet potatoes, fried corn bread, Northern beans and cranberry sauce graced our Thanksgiving table. Maybe the pineapple pie was different, instead of pumpkin pie or apple pie back home. Everyone enjoyed the feast! Everyone is also looking forward to Thanksgiving 2014! It is always Fiesta time the 4th Thursday in November.
No, Thanksgiving is not an official holiday in the Philippines but it is celebrated in the country by many. Together with the famous Bacolod Festivals, Masskara and Panaad, our Filipino family and friends have added Thanksgiving to their list of favorites!
You Might Also Like...
(Visited 1,661 times, 1 visits today)