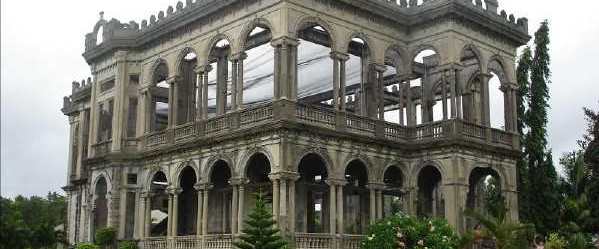 Burning down the house is exactly what happened to this beautiful mansion during the early days of World War II to prevent the Japanese Imperial Army from making it their Headquarters when they invaded Negros Occidental. It is reported that it took days for the inferno to burn down the roof and the thick wooden floors. Today, this mansion and beautiful grounds on the border of Bacolod City and Talisay City still has the original 4 tier imported fountain and the gardens are lovelier than ever! This is The Ruins, a famous tourist attraction with daily visitors from all over the entire Philippines. Former President Gloria Arroyo visited Bacolod when she was still in office and she visited The Ruins. This mansion was originally built by a rich local sugar baron, Don Mariano Ledesma Lacson, for his new bride, Maria Braga, who was Portuguese from Macau.
Picking Up The Pieces
The Ruins was actually in ruins for many years after World War II. It remains surrounded by sugar cane fields, however, when several great grandchildren inherited The Ruins, they decided to develop it and I am very happy they did! So are so many others who have visited The Ruins, some even many times, such my family and I! Whenever we have family and friends visit us from abroad, we always take them to The Ruins. A trip to Bacolod City would never be complete without seeing the Ruins and taking photos of its majestic presence.
The Ruins is much more than just a photo op and seeing the luscious gardens. Children always have fun at The Ruins, as do adults who enjoy games. There is a mini golf course, which we refer to as put- put golf in the States, there is a large as life chess set to enjoy a few games and there is plenty of space to run around the grounds and play.
There is a cafe at The Ruins, which is also a pizzaria. The menu is not limited to pizza, as there are also a number of other dishes on the menu. Their shredded beef dish is awesome! Among several ice cold beers served is Bogsbrew, which is an organic craft beer brewed in Bacolod City.
The Ruins is a popular venue for weddings. I can see why! The Ruins is a step back in time but it also is in step with today. Music concerts are held at The Ruins from time to time.
Once you get to Bacolod City, every taxi driver knows where The Ruins is located! It is not difficult to find, as it is in the area of Bacolod City known as Bata.
In my opinion, The Ruins is a great place to spend the day or an entire evening. To us, The Ruins is more than only a tourist attraction, as it is also a good place to hang out with friends and family.
(Visited 666 times, 1 visits today)