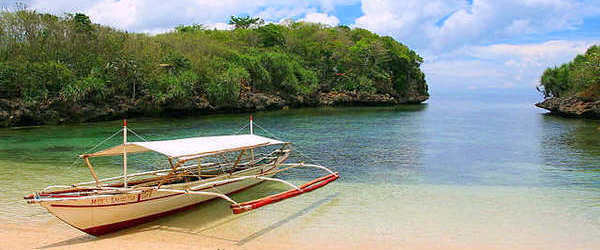 Have you ever heard of Jordan, Philippines? It is the capital of Guimaras Island, located between Negros Occidental and Panay Island in the Western Visayas. Among local Filipinos, Guimaras is one of the "Mysterious Islands," with its folklore. If you are going to Guimaras Island from Negros Occidental, you will need to take a pump boat from Valladolid and it is a 2-3 hour journey. Your will arrive near Nueva Valencia, which is a municipality. As you can see, a pump boat is not very large and if the seas are rough, the pump boat trip will be delayed. Valldolid is located about 31 km or 19 miles south of Bacolod.
If you journey to Guimaras Island from Valladolid, you will not find any hotels or pension houses. If you do not enjoy sleeping on the open beach or if you would not enjoy lodging in a Filipino home, a guest house, at a negotiated price, this is not the part of Guimaras Island for you. Unless you happen to be blessed, as I am, and have relatives living there. Local transportation is by motorcycle. I hope you find it adventurous riding on the back of a motorcycle, as there are not any taxis, tricycles or jeepneys on that side of the island!
Near Nueva Valencia, you will find a beautiful, unspoiled white sandy beach. There are many unique rock formations on the beach and in the sea. Guimaras is one of the better places to take unique photos to show to your friends and family. Many of us have seen photos of Boracay many times, right? Not so many people travel to Guimaras Island because it is not well known. I really enjoy places in the Philippines that are not overcrowded with tourists and cost and arm and a leg to enjoy.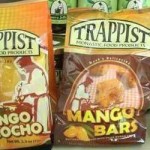 The mangoes grown on Guimaras Island are world famous for being among the sweetest in the world and the Guimaras Mango has found its way to the White House and to Buckingham Palace! There are more than 50,000 mango trees planted on Guimaras Island and you will see them in people's yards and will you see the large commercial mango groves.
In 1972, a Trappist Monastery was established in Barangay San Miguel and it is open to visitors. Sorry, but they don't have a brewery, however, the monks make dried mango, jams, jellies and souvenirs, all for sale to the public. You might want to check out their ginger brew!
The Other Side 
For those who are looking for actual beach resorts, hotels, shopping centers, excellent restaurants and the nightlife on Guimaras Island, you will need to make the trip from the other side of the island. From Iloilo City, it is only a 20 minute boat ride to Jordan, Guimaras. There are restaurants in Jordan that are famous for their mango pizza. Mango ice cream is a favorite during a sultry day on the island.
Guimaras is one of the islands of the Philippines that is viewed as mysterious among many locals in our area. Guimaras is supposedly inhabited by aswangs! In Philippine folklore, an aswang is a mythical vampire-like person, who can change into animals, most notably a pig. Others believe that an aswang can change into a dog, cat or a bird. It seems that most of the islands where the aswang is often talked about are found in the Western Visayas. I can assure you that the aswang topic will come up if you spend any length of time on the islands of Guimaras, Negros, Panay and Bohol. During all the time I have spent in the Philippines during the last 27 years, I have never seen an aswang!
There are also two sides to Guimaras Island. The side of the island facing Negros Occidental is very rural and rustic, while the side facing Iloilo has a number of nice resorts, hotels, restaurants and it is easy getting around. Hopefully, you will put Guimaras Island on your destination list in the Philippines.
(Visited 5,184 times, 1 visits today)