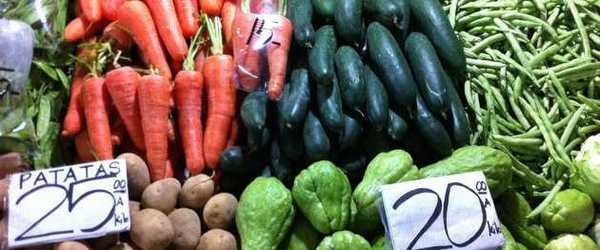 Being a foreigner retired and living in the Philippines, I know that many locals are curious about the things I do when out and about. Like most everyone these days, due to the state of the world economy, I like to spend the least amount of money as possible on my everyday living expenses but I refuse to cut down on the quality of my living.
I have talked to many expats over the years, who are living in the Philippines, and I learned that some are actually shy or even embarrassed to be seen shopping in one of the lively public markets! Some expats told me that they don't want to be perceived as being a Cheap Charlie, as many locals think that all foreigners are rich. I agree that foreigners are sometimes stereotyped as only shopping in the supermarkets located in one of the shopping malls. When a foreigner is seen shopping in the much cheaper public markets, they could be perceived as being either "kuripot" or a poor foreigner. Kuripot is a Tagalog term which means the person never spends for pleasure and is a real tightwad. Many expats have house helpers and they will send them to the public market to buy fruits, vegetables, seafood and meat. Other expats will ask their wife to take care of the chore at the public market.
Cultural Immersion
Personally, I promote cultural immersion if one is going to live in the Philippines. I know a number of expats who spend most of their time in their home, located in a gated community with a security guard at the gate. They say they are happy and I am glad they are but for me, that is not the life I intend to live in the Philippines. I think they are missing out on life in this beautiful country by spending so many hours basically as a shut-in.
We enjoy shopping at the public markets because the food is not only cheaper than what is sold in supermarkets but it is also most often fresher. We are not only saving money but we are eating healthier as well! I really enjoy the lively atmosphere in the public markets where bargaining and haggling is expected. It is also nice establishing friendship with the vendors you buy from, as they are there every time you shop. There are a number of food stalls and kiosks in the public markets where you can take a break from the action of haggling over a kilo of fish or potatoes to enjoy a merienda snack and drinks. Most locals take an afternoon cup of coffee and some men enjoy an ice cold afternoon beer. Many expats warm up to this local custom. Give me an ice cold beer on a hot tropical day!
When I am shopping in one of the supermarkets located in one of the shopping malls, I sometimes notice locals looking in my shopping cart to see the things I am buying. I have actually seen some local shoppers pick up the same item I am buying, which is an imported food item, and throw it in their cart to give it a try later. Cultural sharing in action! I mainly shop at the mall supermarkets to buy things that cannot be purchased in the public markets. Mustard, Worcestershire sauce, horseradish, steak sauce and such western condiments are among the things I buy in the supermarkets.
It does not bother me at all if I am seen by some as El Cheapo for shopping in the public markets. I not only save money but I also have a lot of fun every time I shop!
You Might Also Like...