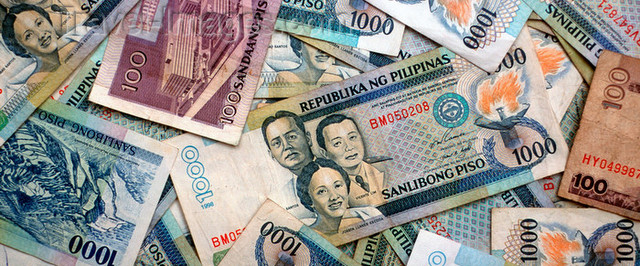 It has been said that money is the root of all evil but that is not exactly how the saying goes and it is often misquoted. "The love of money is the root of all evil" is correct. What about, "I would love to have more money?" I don't think that is wrong, as I think we all can use more money in our lives. Many expats are married to wonderful Filpinas but let's face it, we cannot live on love alone! Man, oh man, if we only could. I would be a billionaire!
A few days recently, the exchange rate was P45:$1 for several days. Today, it is down to P44.7:$1, which is still around the highest it has been since 2009. When we first moved to the Philippines it was P50:$1 and at one point in 2013, the poor exchange rate to U$D was P39.8:$1. Those was sad days! Where you actually exchange your foreign currency can either put more pesos in your pocket or else leave you very disappointed when you find the REAL exchange rate. I don't like to throw money away and I know you don't, either! Philippine banks do not always have the best exchange rate and in Bacolod City, many of the private licensed money changers have the best rates of currency exchange. It pays to shop around. My benchmark on any given day about foreign currency exchange is the rate listed online in the Business News of the Philippine Inquirer. I have found them to be highly accurate more times than not!
One burning question that many expats who retire to the Philippines have is "How do I cheaply transfer my money to the Philippines?" The best method requires having a checking account at a bank in your home country and having a bank where you live in the Philippines. There is not a charge in the Philippine banks for writing a check on a foreign bank and depositing it on this end. My bank in Florida, USA, also does not charge me a fee. This method must take some financial planning in advance because if you need money within a few days, you will be hungry, sick, sober and sorry before your money is available in the Philippines! On average, it takes 14-21 days after depositing your check in a Philippine bank before your money has cleared all the banking policy red tape and you have the cold hard cash in your hands. We make sure we have enough cash on hand to last us until the check clears all the hurdles and is available to us in Bacolod City. It works!
Xoom is one of the more popular ways many expats wire money to the Philippines when they need cash within minutes. The fee is $4.99 for transferring up to $2,999 per month to the Philippines.
Western Union is probably the most expensive method to use when wiring money to the Philppines.
I use an ATM card in the Philippines but my card was issued on my bank in Florida. Each time I make a withdrawal with my card, it costs me $6 total. The Philippine banks ATM charge is P200 each time your foreign ATM card is used. If you have a Philippine bank account with an ATM, some banks do not charge a fee if you use their card at their ATM. Once you get here, you can ask around to learn which banks do not have a service charge with their ATM.
There are several Philippine banks in the USA, which can be an advantage for you to open a bank account there and here in the Philippines where you live. for money transfers. Since I am an American, I am familiar with the Philippine banks there but I would imagine there are Philippine banks in other countries as well. In America, there is Bank of the Philippine Islands (BPI), Metro Bank, RCBC of North America and Philippine National Bank (PNB).
While there are certainly other methods for wiring and receiving money in the Philippines from your home country, I am not an international banker but what I have written in my article are more common ways and means! No, I haven't ever heard of Pinoy Express or Zip It To Me Fast remittance companies but I feel quite certain there are probably hundreds of such companies, if not thousands. If it sounds too good to be true, it usually is, so please use caution when transferring your hard earned money. Happy Shopping!
(Visited 2,413 times, 1 visits today)