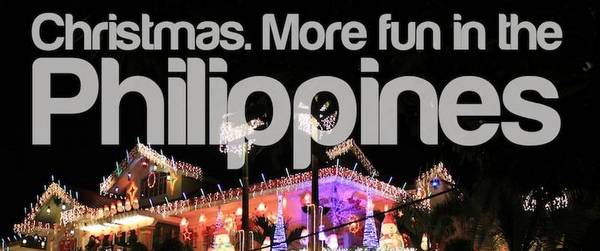 Are you ready for Christmas? You are already one month behind! The Christmas Season in Bacolod City kicked off on September 1 with the first Christmas songs of this new Christmas Season. There are still 110 days left, so you still have plenty of time to celebrate. The Feast of Santo Nino (Christ Child) is most famous in Cebu but many Filipinos in Negros Occidental also celebrate this Festival, which brings to a close the Christmas Season on the 3rd Sunday in January.
This will be my 6th consecutive Christmas in the Bacolod Area and over the past 28 years, I tried to plan my long vacation and trips to the Philippines around Christmas Eve and Christmas Day. Christmas in the Philippines still brings excitement to me, same as it did when I was a child! Only these days, I am not thinking about all the actual toys I may receive to play with for the next year, as I did as a child but rather, I look forward to spending time my family and getting caught up in the marvelous Filipino celebrations of Christmas. Once you spend one Christmas in the Philippines with family and friends, you will want everyday to be Christmas!
Christmas Is In the Air
I was shopping in SM Supermarket just a few short days ago in Bacolod City. Christmas songs were being played in the store and almost at every turn, Christmas was in the air! Christmas Gift Baskets are already on sale for P500-P2,000. The expensive Christmas Gift Baskets were loaded with imported chocolates, wafers, cookies and many other wonderful goodies! You would spend more than P2,000 if you bought all those items separately and bought the actual basket to pack with the gifts!
The Fiesta Hams and Holiday Hams are ready for display, as are the Queso de Bola, cheese balls. Edam Cheese makes up the Queso de Bola and it is fabulous!
Christmas decorations have been for sale in the Department Stores the last couple of weeks! More and more Filipinos are getting into buying Christmas lights and decorating their homes. Last year, our neighbor would have easily won Best Award for their Christmas lights in most neighborhoods in NE Florida! They went all out! The traditional Christmas decoration, the Parol, which is a star shaped lantern, will also have its place among all the Western style Christmas lights. We have a Parol at our house down at the farm, which is made of capiz shells. Capiz Shells are actually shells from Windowpane Oysters and Panay Island is famous all over the Philippines for their unique capiz shells.
Noche Buena
Food, food and more food! Only snacking until the Main Event on the night of December 24 at the stroke of Midnight, as that is when the table will be set!
What do you have to eat? Of course, all the traditional Filipino dishes, such as lechon, pancit, lumpia, adobo but also ham, fried chicken, BBQ chicken, spaghetti, some have turkey, stuffed fish, macaroni salad, fruit salad and whatever people can afford. I know for sure, the day after New Year, many families in the Philippines start saving for the next Christmas and New Year Celebration!
What do you have to drink? Red wine! Grape juice for the children. These are the traditional drinks in our family on the night of December 24 at the stroke of midnight. Oh, before and after, there will also be beer, brandy, rhum and whiskey. 
My son and I will will celebrate our birthdays before Christmas, Thanksgiving is still ahead in November but Christmas is still on the front burner! Christmas is also such a grand celebration for me because I not only celebrate the Reason for the Season, but December 25 is also our Wedding Anniversary! It is always a big day in our family.
Twelve Days of Christmas? No way, Jose! After December 25, we still have 24 more days of Christmas! In 2014-early 2015, we have 140 days of Christmas in the Philippines!
You Might Also Like...
(Visited 2,009 times, 1 visits today)