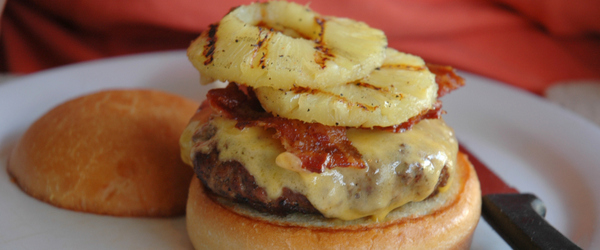 Doesn't that Pineapple Cheeseburger look fabulous? This is what I call a "Paradise Cheeseburger." You will not find a marvelous burger exactly like this one in the local restaurants of our area but it is so easy to make at home. Pineapple is readily available and very inexpensive. We have a couple of pineapple plants in our yard down at our farm, outside the city. Buns, bacon, ground beef and all the condiments are available in all large and midsize cities in the Philippines.
Over the years, I have noticed that there are two hot topics among expats, who are considering moving to the Philippines. One is the cost of living and the other one that always arises is about food. I have told people the past 27 years that the Philippines offers a lot more than just fish and rice for expats to eat and as time marches on, the available food selections and varieties keep expanding. There are great restaurants where we live and I take my family out to eat in one of the better restaurants several times every week. However, my wife and I agree that the best food around is what we prepare at home! My wife studied culinary, so I am doubly blessed. She knows how to prepare international food dishes and she is not limited to only local Filipino style food.
Filipino Food Or Western Food
There days, I balance my diet between both Filipino food and Western style food. To be honest, I now lean more toward the Western style food than I did in years past. When I first lived in the Philippines, I ate Filipino food almost exclusively, except for an occasional pizza or burger. No marriage is perfect but I think ours is close to perfection. We greatly respect one another and our food preferences is no exception. It sounds simple but believe it..or not, I know a few couples who have verbal altercations almost daily because the hubby does not like the food his wife prepares. It happens! Some days, we have three different main dishes at meal time. My food, my wife's food and our son's food. Of course, there are a number of dishes we prepare at home that all three of us really enjoy. Both among Filipino and Western dishes. One example is fresh, whole yellow fin tuna. We buy it wholesale due to our personal connections and we only pay P180 per kilo for the yellow fin tuna.
There are many wonderful Filipino dishes that I enjoy but I have never been one who much enjoys a lighter seafood and vegetable soup. I enjoy the thicker, heartier soups. Among my local favorites is kare kare, which is oxtail stew in peanut sauce and served with bagoong, or shrimp paste.
When I first visited and lived in the Philippines many years ago, I tried most every local dish and made my choices as to which ones I enjoyed. This would be my advice to every expat. If you come to the Philippines and plan eating the same brand name food items every meal as you did back home, it is going to jack up your cost of living considerably. I am an American, I know the price of many American food items here in the Philippines and since most are imported, the cost can be as much as 5 times higher here than back home! So true. I pick and choose which imported items I buy on a regular basis and the longer I have been away from the States, the shorter my list grows..weekly.
When out and about shopping, we have no choice but to grab a bite on the run. There are many local burger restaurants, such as Hungry Pete's, there are many local pizza restaurants, such as Rio Bella, and there are many local hot dog stands, such as Tender Juicy. Burgers, pizza, hot dogs and spaghetti are not considered imported food in the midsize city where we live in the Philippines. Many Filipinos also enjoy all of these.
I have learned the better local food items that my wife and I can buy in using for preparing all my favorite American and Western style dishes. Since I learned this, my personal food bill is only about $100 USD per month.
Going out to nice restaurants is great and we do several times every week, however, we enjoy our home cooking best. It is not only less expensive but we can prepare the food the way we enjoy it, every meal without failure. Ready for that Paradise Cheeseburger?
(Visited 488 times, 1 visits today)