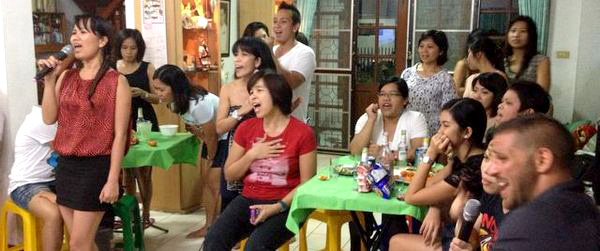 "Let's Get Loud" is one of one of our cousins' favorite songs and she sings it exactly like the original artist. I also enjoy the song and I think that could be one of the theme songs of the Philippines. Yes, amigos, there is noise here and it isn't going away because it has been around the last 28 years that I know about. I am sure the noise was here long before I arrived on the golden shores! I call it "the art of making noise!"
Most of the expats I know, who have retired to the Philippines, no longer actually hear the noise, as they adapted. I adapted to noise long ago in the Philippines and I also do not hear what newcomers seem to hear or what some expats hear, who have not yet adapted properly. What they don't seem to hear is the irritation that I and other well adjusted expats have to hear coming from them in all their complaining. That is one noise that I do not like hearing! Bitching, whining, complaining, moaning, groaning and grunting! Ear plugs? No, they actually need a mouth plug!
Here Comes The Rooster
Chickens are a very important part of the vibrant Filipino Culture. Cock fighting is a National Sport and many Filipinos raise gamecocks for sport and for business. Hardly a day passes by that I do not see a Filipino carry a gamecock cradled in his arm. Yes, even in the city! The blood of a white chicken is often used to bless new homes, new vehicles, a newly drilled well and anything new under the sun! Many families also raise chickens for eggs and meat for their personal table.
At our farm, we always have 50-100 free range chickens running around. Yes, when we first made the move to the Philippines in 2009, I heard the rooster at the break of dawn! Not just one rooster but many roosters and they did wake me up. Once one rooster crows, they all crow and this crowing can go on for an hour! Until the King Rooster decides he is going to run him down a chick and have some real fun! Now and for the past 5 years, the rooster does not bother me at all. I hear it but I don't hear it. The sound is just a natural part of everyday life in the Philippines.
Karaoke
It's a good night for singing! Every night is! Day time is, too. We have visited native homes of friends and family over the years and many have one special luxury. They have a Magic Mic, which is a home karaoke system and it is put to good use at the drop of a hat! We have a Magic Mic and singing is one of my favorite activities in the Philippines. Singing was also one of my favorite activities when I still lived in Ft Walton Beach, Florida. I won the Karaoke King Award several times for Best Song. I now have well over 100 songs in my repertoire!
Filipinos love to sing, dance and entertain. Anyone who tries to put a damper on it is known as "Killjoy!" No one will ever take away singing, dancing and entertaining from Filipinos, so don't even try. I would be highly upset. I also love listening to singing, even from those who cannot really sing well. Filipinos love life and even the poorest have many songs in their hearts. Why try to destroy it? Join in and get loud!
Chatter And Tsismis
When you get more than one Filipino in the room, you are going to hear some chattering that will surely get a little loud with excitement. I love it! Tsismis is basically gossip or talking about the latest balita going on with people in their lives. Many times it is good, sometimes it is bad and sometimes it is downright ugly! But, that is part of life, di ba? Most people like to talk and Filipinos are happier around many other people, filled with lively chatter. I also like it! Happiness is better than unhappiness, anger and bitterness every second of the day!
I can only recall one time during the past 5 years when noise was really irritating and it wasn't so much the actual noise but the type of noise. A friend and I were in a deli trying to have a conversation and a table full of bakla, the 3rd gender, were extremely loud with their boisterous and inappropriate conversation, followed by exaggerated even louder laughter. A public place was not the proper venue for that type of behavior. My friend and I moved to another section of the restaurant where we no longer had to hear all the loud gay lingo! Even if there had been a table full of prostitutes engaging in the same behavior, I would have been annoyed!
I am just so proud to be here! Karaoke, tsismis chatter, barking dogs, loud motorcycles, crowing roosters, touting vendors and all the other sounds of life all around me are a part of my world and I am loving every second of it! Come on down and let's get loud!
You Might Also Like...
(Visited 1,676 times, 1 visits today)