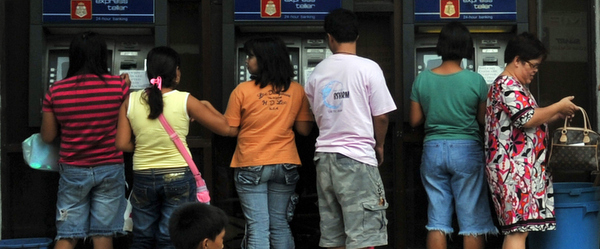 One important question that most expats have about retiring to the Philippines is how to access their pensions and/or their money in USA and other foreign banks. Since I am American, I am familiar with access to money in USA Banks from the Philippines and it is not a problem for my family and I. There are a number of banks in the many cities in the Philippines which have a working relationship with a number of banks in the USA. Direct Deposit is not normally a problem from USA banks to certain Philippine banks.
I am still a few years away from starting my early USA Social Security retirement pension but I know many American expats in our area of the Philippines who receive their pension in the local banks in Bacolod City. I have also been told that since they live in the Philippines and unlike in the States, they all have their money in their Philippine bank by the 3rd of every month, regardless of their age or birth date.
Opening a Philippine Bank Account
Dealing with banks in the Philippines is much like dealing with the various government agencies in the Philippines in that each particular branch or office seems to have their own SOP and it differs from branches and offices even within the same city! You will learn the banking requirements of the particular bank branch you are planning to open an account when you appear in person, ready to open a bank account and make an initial deposit.
Many banks in the Philippines require that a foreigner have a valid ACR I-Card issued from the Philippine Bureau of Immigration. However, some banks do not require an ACR I-Card, which is the Alien Certificate of Registration. Those with the permanent 13a Visa, also known as the spouse visa, and those who are in the Philippines on an extended tourist or visitor's visa, after 21 days, are required to have an ACR I-Card, even if they do not plan to open a bank account. Those on the Balikbayan Privilege for one year are not required to have an ACR I-Card.
Transferring Money From Abroad
The easiest way to transfer money from your bank account in your home country to the Philippines is by writing a personal check and depositing it in your Philippine bank. This is a free service and there is not a fee. Depending on the bank, it will take 14-30 days for the foreign check to clear and the funds available at your Philippine bank.
There are hundreds of ATMs in the city where I live and most honor foreign debit and credit cards if they are Visa or Master Card. There is a standard P200 charge for using the foreign cards and your home bank in your home country will most likely charge a service fee. It costs me about $6 USD every time I use my American bank issued debit card at an ATM in the Philippines, so I make sure I withdraw the maximum amount allowed to make it worth while. P10,000 is pretty much the standard withdrawal limit each draw and some American banks have a maximum P20,000 limit in one 24 hour period of time. This is to prevent someone from emptying out your account should you lose your ATM card and someone gets lucky with the pin number!
Some Philippine banks will issue credit cards to expats but some banks base the credit line on the amount one has on deposit within their bank account.
Armed with the correct information, banking in the Philippines is a snap!
(Visited 3,100 times, 1 visits today)