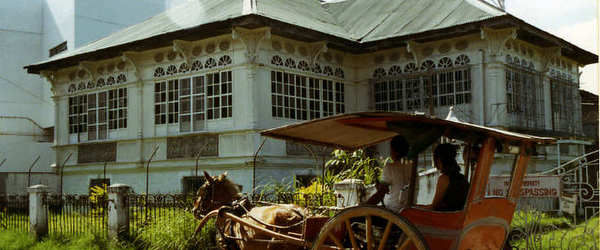 It has often been said that one man's Paradise is another man's Hell! I certainly believe it. One size does not fit all and we cannot paint a true picture of Paradise using the same brush, as people have different ideas about Shangri La or Dreamland. Everyone does not enjoy living on the beach in a rustic beach house by the sea, surrounded by lush coconut trees. Everyone does not enjoy living in the rural areas of the Philippines, 20 miles or more outside a mid-size or large city. Everyone does not enjoy living in a large city, where the pulsating beat of the vibrant nightlife roars from dusk until dawn! But some expats do!
Where Should I Live?
That is one of the most often asked questions among expats, concerning the best places to live in the Philippines. I think many already have an idea of the type of area they think they would enjoy while living here. Some like cool mountain climates, some enjoy the beach, some enjoy living in a high rise in one of the major cities, some enjoy living in a simple farmhouse in a rural area, some enjoy living in a small modern subdivision within a mid-size or small city, some enjoy living in older neighborhoods, with older houses and where one can still ride in a horse drawn carriage. Others have unique ideas, that are different from most expats! All these are very readily available here when retiring to the Philippines.
Some expats make this decision much harder than it really is! Once you have decided on the type of place you would enjoy living, I suggest making a checklist of things that are most important to you, beginning with the most important being number one and then on down the line. Some of the things that were important to my wife and I included: cost of living, a less prone area to typhoons, an ideal place to engage in the Agribusiness and other small businesses, low crime area, excellent education for our son, excellent medical facilities, the availability of food products that I enjoy eating, good quality air, nice and affordable restaurants, no major traffic jams in the city and friendliness of the local people. The Bacolod Area of Negros Occidental met all our desires, so we found our Paradise in Wonderland!
Fear Of Typhoons
As we have recently witnessed, a typhoon can cause much destruction in the Philippines! Major loss of lives and property is no laughing matter and the concern about typhoons should come into play concerning the location where one decides to live. There is information about typhoons available and it is best to get the facts and not just listen to what others say about where they live. If one researches the 20 worse typhoons in the Philippines, from 1951-2013, you will get a very accurate database of locations in the Philippines which are more prone to very powerful typhoons. The Bicol Region has been hit 7 times among the 20 most powerful typhoons to hit the Philippines! The Eastern Visayas, including Leyte and Samar, have been hit 5 times among the 20 most powerful typhoons. Typhoon 2000 is a good source about the history of typhoons in the Philippines, however, they are updating their webpage due to Super Typhoon Yolanda. The death toll and destruction is still not completed.
Cost of Living
Most everyone wants to live where they can enjoy an excellent quality of life with it costing the least amount as possible. I know we do! Every island in the Philippines will differ in the cost of living and even areas on the very same island will differ! Knowing where to shop in the area where you live can also give you a substantial savings when buying food and daily commodities. This is one reason why there isn't a clear answer concerning the other most often asked questions among expats, "How much will I need to live comfortably?" It depends on your lifestyle, your location in the Philippines and where you shop.
For those wanting to own property,  a foreigner cannot own land in the Philippines, however, their citizen spouse can. Some want to build their dream home, others are satisfied buying a house already built and some look for a "handyman special," which is the older house that needs some work but still a quality home at a rock bottom price. Some expats enjoy these type houses because they see it as a sort of a hobby, as they know how to do a complete house makeover to beautify it.
There is something for everyone in the Philippines unless you are hoping to move here and find that things will be just like where you are moving from. It is not happening! I would not find any adventure in that scenario, if our area of the Philippines was exactly like Miami, Florida! I consider the Philippines a Wonderland, the Land of Emerald Isles, the Pearl of the Orient and a country where Paradise can be found and enjoyed the rest of our lives!
(Visited 1,242 times, 1 visits today)