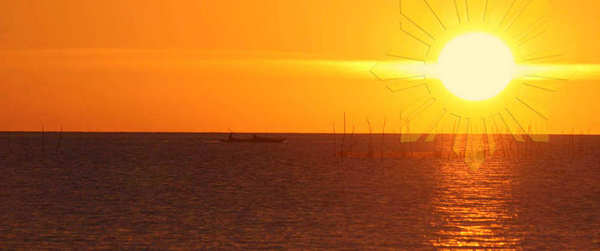 One of the concerns of expats retiring to the Philippines is the weather. Personally, I see the sunshine in most everything and I know there will never be a harsh, cold winter in the Philippines.
Many think that typhoons rage and hit every area of the country, every year, but this is not true. Since storm records have been kept, one will discover that the information reveals which areas of the Philippines consistently have problems with typhoons. Those areas are Luzon, Bicol and the Eastern Visayan Region, especially Leyte and Samar.
Where I live on Negros Occidental, we are buffered to the east by Cebu and Negros Oriental and to the west by the Guimaras Island and Panay Island. Every year, we have typhoons in the area but we have not been directly hit by a typhoon since we moved here in 2009. In asking locals, they lay claim that 1991 was the last time that Negros Occidental was seriously affected by a typhoon.
The typhoon season is typically from July-October but there have been typhoons in late December. The typhoons are tracked in advance by PAGASA, Philippine Atmospheric, Geophysical and Astronomical Services Administration, and warnings to evacuate are given when necessary.
Change In The Weather
In our area of the Philippines, we have the dry season and the rainy season. The dry season is in the early part of the year and this is why we never plant rice on our farm until May each year. We do not have irrigation. The rainy season is usually from late June or early July until October.
May is always the hottest month and January is usually the coolest month. Someone once joked that January is about 4 degrees cooler than the other months! I recall one January morning when it was 59F degrees and I put on a long sleeve shirt but by noon, it was 80F degrees.
Some people do not think that there are tornadoes in the Philippines but there are. They are not as common as in the USA but they are here. In 2011, a tornado hit our barangay or village and they do not have a tornado warning system in place. A number of people lost their homes but most of those homes were made of nipa and bamboo. Our home, which was built Western style, was untouched by the tornado.
Weather experts agree that the weather in the Philippines is getting more difficult to predict but it is always professionally tracked, monitored and managed by PAGASA. Have no fear!
Some Like It Hot
In most areas of the Philippines, it is hot, hot, hot! Living near the sea really helps due to the cool breeze. Most days during the summer, April-August in our area, it is 88F-93F degrees. Other months are cooler, with January and February being the coolest. I lived in Florida for 15 years before moving from the USA and my family and I lived in South China for 4 years before moving to the Philippines, so the hot weather does not bother me. I am comfortable with a high powered fan during the daytime but I enjoy sleeping under an air conditioner, aka air con, during the night. The most economical air con in the Philippines is the split type with an inverter. There are many different brands, sizes and horsepower available in the Philippines. We use our air con about 12 hours daily and our electric bill is under $100 per month. We also have many other electrical appliances and electrical gadgets that we use on a daily basis.
For those who like cooler weather, you can check out Benguet Province, where world famous Baguio City is located. It is reported that it is sometimes 25 degrees cooler there than in most of the country. I have heard many Filipinos complain that it is too cold in Baguio and in other areas of Benguet.
One of the attractions of the Philippines to many is the hot fun in the sun, year round. I think we can all stand a little rain and it does not last forever. There is still sunshine in the Philippines, even on a rainy day!
(Visited 430 times, 1 visits today)