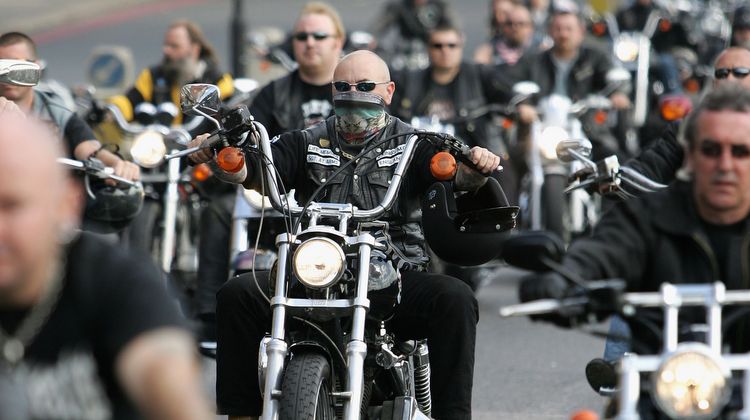 If you like the feel of a bikers bar without getting your butt kicked and without biker chicks, Crossed Pistons Saloon is the place to visit in Cebu City. It is located on Morales Street, near Harold's Hotel and the Silver Dollar Bar. If you are looking for a girlie bar, skip Crossed Pistons because that is not what they are about.
I was sent on a mission one evening when I was in Cebu last month, to check it out, mainly for their upstairs karaoke. "If Gary returns, the place is safe." Thanks guys. No, I did not have to RKO anyone. I met the challenge and returned safely. No danger despite the leather, the colors and the bikes outside. Open arms was my greeting. "Come in, Bro. Welcome." Ever seen a Filipino biker wearing Outlaw colors? I met one and he is nice as anyone could be.
As soon as I saw the songs "Free Bird" by Lynyrd Skynyrd and "Black" by Pearl Jam in their song book, I said to myself, "this is my kind of place." What started out to be a casing of the joint and a quick beer turned into a 3 hour singing session with the bartender and I. Wow! She has a great voice. I discovered many of my favorite songs available in their karaoke song list. Songs I have never seen in Bacolod.
Second Helping
My last night in Cebu last month, I visited Crossed Pistons Saloon again. Everyone remembered me. The bartender said, "Let's sing." She did not have to twist my arm.
If I was looking for the heart of a Friday night, I found it. Good fun, good food, good friends and ice cold beer. I don't know where she learned but the cook can really cook up some mean southern fried chicken that will rival my grandmother's chicken.  Half chicken fried for P150. You can't beat that.
I found a couple more Lynyrd Skynyrd and Pearl Jam songs in their play list song book. No songs by The Mavericks, though. Another song I enjoy singing in the Philippines is "What I'd Say," by Ray Charles. Some in the crowd will join me in singing the "hey…ho" chorus.
As always, another good night for singing.
I have met many foreigners over the last 29 years in the Philippines but I have not met many who love singing. One reason, among many, why I relate to Filipinos so well is because I firmly believe that every night is a good night for singing. If you keep a song in your heart every single day, despite the challenges of life, it can reach to the depths of your soul.
(Visited 2,893 times, 1 visits today)