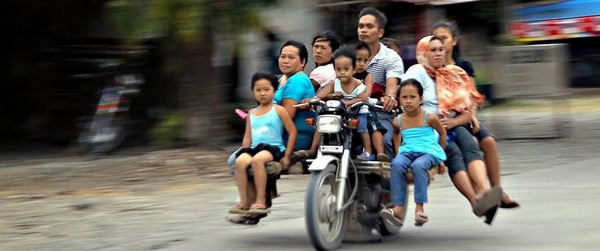 Are you excited about retiring to the Philippines? Feeling anxiety? Are you nervous? If you have newly arrived, do you feel like you are fresh off the boat?
In 1986, I moved to Metro Manila to live for a year. Back then, there weren't any forums or even internet to seek advice from other expats in the Philippines. I did not have a Filipina girlfriend or a wife in those days. All I had were a few local contacts that a Filipino friend in Alabama had given me and the faculty at the University of the Philippines to help me transition.
Surprisingly, I discovered that 3 lovely and very attractive Filipinas, all in their 20s, were the local contacts that my Filipino friend in Alabama had given me. They were sisters. After I settled in my room and showered, I received a call from the front desk at the Sheraton Hotel in Manila. I had guests in the lobby. I met the 3 sisters and they were all very talkative, in English, and friendly. They were ready to show me around Manila. All went very well.
I have written before about living with a Filipino family in Valenzuela, Metro Manila, most of that year. They basically adopted me. That year in Manila was the greatest adventure of my lifetime, up to that point, and it is still one of my top 5 greatest adventures in life.
When we moved to the Philippines in 2009, my wife had not lived in the Philippines for more than 12 years. We built a house on my wife's farmland in her hometown, so that was easy. No surprises there since my wife grew up on that land and in that barangay.
We moved to Bacolod City in 2011 and my wife had not lived in Bacolod City since she was a college student. Bacolod had really developed and had a lot more people in 2011 than it did back in the college days. Bacolod is now Metro Bacolod, which includes the cities of Silay and Talisay. We chose a part of the city to live which still has a rural feel to it. It is an excellent location for us and everyone who visits us the first time say they really like the area. Our transition also went very smoothly.
For me, living in Negros Occidental is much different than living in Metro Manila, which is a difference I really enjoy. Most of the people who live in the Bacolod area are originally from this area. In Manila, many are from all over the islands. Still Filipinos but a different culture. The Negrense or Ilonggo Culture rules in the Bacolod area. Warm, friendly, peaceful, smiling people. Of course, none wear a permanent smile but they smile often and naturally.
In Bacolod, there is a core group of very nice, respectable and honest expats. From the USA, Canada, Australia, UK and Germany for the most part, who I know. One American set up a 24 hour cell phone hot line that an expat can call if they are sick, in trouble or need some immediate help. We also have the Philippines Food Network, which I set up. If you are craving one particular food item from back home, we are up to date and know where you can find it, if it is in stock. A number of other expats update the Philippines Food Network all the time, when they see some hot new food item in stock in Metro Bacolod. Or have finally found that one wanted food item some have been searching for a long time.
My wife and I also have a very large support system of Filipino friends, acquaintances and family. They are from all walks of life and are in many different professions, including government. They are only a text or call away if we need them for anything.
There is no need to arrive in the Philippines in this day and time uninformed. When retiring to the Philippines or to any foreign country, this will be a big change and yes, there are challenges. Having a plan and being prepared can really greatly lessen those feelings of being fresh off the boat.
I wish you all the very best with your move to the Philippines.
(Visited 1,366 times, 1 visits today)