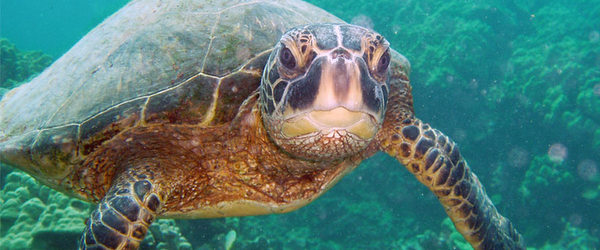 It was about 7:00 pm and very dark – the night was still; the stars were shinning above as I did a back roll into the water off the boat; still descending into the 12 meter deep, dark but crystal clear water; I turned on my flashlight and shone it into a rock crevasse – just in time to see a one meter eel take a small wriggling reef fish into it's mouth. The eel had a choice of finishing the morsel or letting it go to escape my flashlights glare – the eel chose to finish its dinner before it disappeared from view. The whole episode lasted 40 seconds or less; but what a surprise for me and a treat as well! That was just one of many memorable moments for me diving in the Philippines. I have swam in the middle of a school of large reef fish too numerous to count – the fish were oblivious of me. On another occasion my dive buddy and I watched as a fully grown sea turtle energetically used it's flippers to dig up a shell fish to eat, the reptile saw us but did not care – it was too interested casting the sand away to catch it's meal. I have been eye to eye swimming beside two meter or longer reef sharks on more than one occasion. One of the biggest surprises I have had while diving was while inspecting a large fan coral I realized that there was a colony of pygmy seahorses living on that coral; the largest of them was perhaps a quarter of an inch tall and they blended with the fronds of the coral like they were a part of it.
One of my favorite kind of dives is a drift dive particularly when there is a strong current. I have never flown without being in an airplane but I think the sensation is similar to what it must feel like to soar; to be carried on the wind like a kite – the sea bed drifting by below me and all I have to do is to keep myself horizontal; the current maintains my momentum while I observe the life below while I drift by.
Off shore of almost every island you can do any kind of dive you like deep dive, wall dive or drift dive. There are many underwater caves to explore and wrecks to dive on as well. If you Do the same dive in the same spot after the sun goes down – it's a totally different world and the creatures of the dark come out of their holes. North and west of Manila the tanks and other military equipment that General MacArthur sunk before leaving the P.I. in the early days of World War Two await anyone that wants to take a look.
Subic Bay near Manila is a good place to dive there are a number of shipwrecks and lots of reef fish that have made the old relics into a home. A tradition in Subic is to feed the fish there – in fact when diving onto a wreck it is common for the fish to swarm you as they look for a hand-out. Other awesome places to dive are Alona Beach Bohol, Puerto Gallera Mindoro and Moalboal Cebu Island. The sites are too many to be listed but I must mention El Nido Palawan, Apo Island off Mindoro and Tubbataha Reef the later is a world heritage site.
You may have traveled the length and breadth of the Philippines by all modes of transport but if you have not been under water you have not seen a half of what the P.I. offers. Scuba diving will give you a taste of another world; a world where the wildlife is not afraid of you where you can get inches away from the fish before they pay any attention to you at the most they will just observe you with some curiosity; if they notice you at all. It is not a silent world but is a place where the sounds have a damper on them. If you are from a temperate climate I could liken the quiet to going for a walk on a city street during the first heavy snowfall of winter time. The city sounds of tires, the footsteps and construction equipment are all muffled and seem distant. If you feel you cannot afford to scuba dive then you should try snorkeling above a coral reef for a little tamer but still amazing experience.
Expatjoe
You Might Also Like...
(Visited 477 times, 1 visits today)