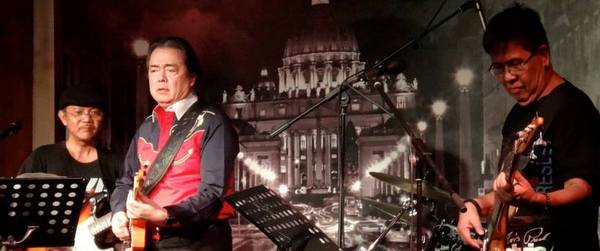 Let me introduce you to my rock n' roll friend! RJ Jacinto. Flasback! 1987. One of the first celebrities I had the pleasure meeting in the Philippines, after enjoying his energizing show, was RJ Jacinto. The Father of Philippines Rock n' Roll. He was and still is indeed electric! Song after song of non-stop full tilt electric boogie on his guitar. He can sing, too! Rock n' Roll and Rockabilly. Wooly Bully, Johnny B. Goode, Save the Last Dance for Me, Pretty Woman, I Fought the Law, I Saw Her Standing There and just about every American and British Invasion Rock n' Roll song you can imagine. I can hear the guitar riffs now. That's RJ Jacinto!
RJ is well known internationally and not only in the Philippines. He has performed live with such American groups as The Beach Boys and America. Remember "You Can Do Magic?" How about "Sister Golden Hair?" Those are songs from the rock group America.
The Guitar Man
RJ Jacinto is well known for RJ Guitars! Since 1988, RJ began designing and manufacturing his own line of guitars. With 10 RJ Guitar Stores and more than 50 dealers nationwide, RJ Jacinto continues designing and marketing his own brand of unique guitars.
Just a few short months ago, RJ Jacinto released on the market a revolutionary guitar, which is catching fire on the international music scene. Imagine the cost of owning the Fender Jazzmaster, Stratocaster, Telecaster and the Gibson Les Paul guitars? Well, now you can own one guitar that does it all! The RJ Super Vintage Guitar can now be yours! I don't know about you but I am ready to turn up the amp volume and start jamming!
The Amazing Entrepreneur
When you learn the life story of RJ Jacinto, I think he is an inspiration to us all. If he can do it, we can do it, too. What makes RJ and people like him special and successful is that they put their dreams into action!
At age 15, RJ owned his own recording studio. At age 17, RJ owned DZRJ, which would become the legendary rock radio station in the Philippines. In the blink of an eye, RJ's success changed! Under Marcos, his assets were seized, employees were jailed. RJ and his family went into exile to the USA for 14 years. During his time in exile, RJ recorded songs about the Philippine Dictatorship and Filipino friends back in the Philippines gave them airplay. RJ had a secret network to get his recordings to the Philippines.
Upon returning from exile, RJ never missed a beat. His Radyo Bandido became the voice of Democratic Freedom in the Philippines. Marcos himself left in exile. Living out his years in Hawaii.
Rock n' Roll Will Never Die!
If you have cable or satellite TV in the Philippines, you can't miss RJ Jacinto. I enjoy his weekly live show from the Dusit Hotel in Manila. RJ turned 69 this year but let me tell you, he is still rocking! RJ is the kind of guy who can roll out of bed in the morning, pick up his guitar, pump up the volume and rock all day and all night long! Never breaking a sweat! He is a natural.
In March 2014, RJ released a new album, "Fine As Wine." I have not been able to land a copy yet but I am still working on it.
While I enjoy RJ's songs when he sings, I really enjoy his guitar instrumentals. He can take you out there! He can do the Ventures songs better than the Ventures, as he is still kicking! He has taken these type songs to greater heights with his own brand of playing.
It's never too late to rock. I hope you get to see and hear RJ one day in the near future. As for me, I am ready to put on RJ's "Ride and Rule" album and kick it out for awhile.
(Visited 1,059 times, 1 visits today)