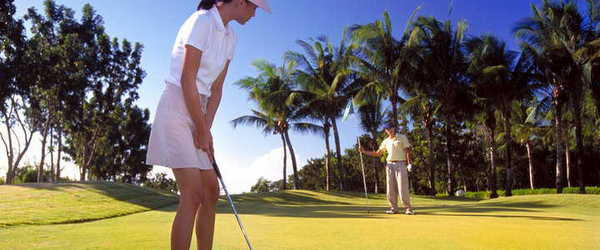 A great time for hitting the links in the Philippines is at dawn and it is a great way to begin the day! Golf is a very popular sport among both men and women in many areas of the Islands. Most expats and foreign tourists alike agree that the Philippines is not only an inexpensive location to play golf but many of the courses are excellent. Did you know that the oldest golf course in Southeast Asia was established in the Philippines during the 1850s? Iloilo Golf Course and Country Club, located in the Western Visayas, has that distinction.
Korean tourists fly into Bacolod City from Korea on a weekly basis with one main objective and that is to play golf! The green fee at Bacolod Golf and Country Club is P800 on weekdays and P1,000 on weekends. Both prices are less than $25 USD and the price applies to both local and foreign golfers. Bacolod Golf and Country Club is located in the cooler mountain climate of Murcia, right outside Bacolod City. There are three golf courses in the Bacolod Areas, so there is never a shortage of a place to play golf or just to hack at a few golf balls.
Golf Promotion
I have been excited ever since I heard the news and I can't hardly wait to tell all my friends and everyone I know! One of the most fabulous golf promotions I have heard anywhere around the round world is found right here in the Philippines. You do not have to join every golf course and country club to get in the door to play golf and to socialize with others who share your interests, even off the links. For only P6,000 per year, you can receive a GolfPH Privilege Membership with VIP access to more than 50 golf courses all around the Philippines. Does that sound like a deal or what, for less than $200 USD?
The GolfPH membership card holder is also entitled to up to 50% off the already unbelievably inexpensive green fees and will be given discounts at all the Golf Pro Shops around the country.
Many expats take up golf for the very first time once they retire to the Philippines. Long time avid golfers will never miss a beat, as they can pick up right where they left off back home in playing their favorite sport. For the new golfer who wants to see if they will enjoy it, most golf courses will rent a set of clubs for the day until they decide if golf is for them. Playing golf in the Philippines will make your day! For the best golf results, keep your eyes on the ball and not on the lovely umbrella girls. "Fore!"
You Might Also Like...
(Visited 360 times, 1 visits today)