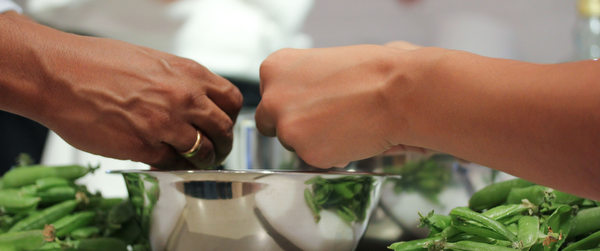 My kitchen differs from my wife's kitchen due to the diversity of the cuisine, which is prepared. However, I am not complaining about my wife's kitchen, as she can also be diverse in helping me prepare international dishes. Without a doubt, topics related to food remain hot topics among foreigners who have retired to the Philippines. While we can be adventurous, most people still prefer eating the food they are accustomed to, at least on a regular basis. Filipinos included, even when residing abroad. When we lived in China, we had Filipino friends and one of the most enjoyed activities was on Sundays when we met at our apartment and we prepared Filipino food. Everyone was happy.
Eat At Home Or Dine Out
We enjoy dining out one or two times every week for a change of pace but mostly, we enjoy preparing our own food at home. Why? We get it right! We know what we enjoy eating and we know how to prepare it properly. Our food is not a knock off. I am blessed that my wife graduated from a Culinary Arts Academy abroad, so she is not just locked into preparing Filipino cuisine.
When we dine out, I especially enjoy eating food I do not normally prepare at home or food that requires more time in preparation than we have time to put into it. Yesterday, we enjoyed eating at an Austrian restaurant. Various German style sausages, wiener schnitzel, potato salad, sauerkraut and pork knuckle. With draft beer. It was awesome!
As I have related before, you can find most ingredients in local supermarkets and delis in Bacolod City to prepare your favorite dishes at home. It will be the same in most other mid-size and large cities in the Philippines.
This year is still very young but we have made a few changes in my kusina (kitchen), which my wife and I actually share together at times. It's great preparing food with your wife or girlfriend. One change is preparing more roasted and grilled food. Roasted mushrooms, potatoes, broccoli, peppers, cauliflower, garlic, tomatoes, onions and carrots. With these, you can put together many healthy and delicious dishes. How does lemon chicken sound to you? Add the roasted veggies of your choice, brown rice and you have a fabulous meal. Carolina BBQ Chicken? Once again, make your own BBQ sauce, grill the chicken, add your favorite roasted veggies and now you are eating something great. Boiled corn and homemade mashed potatoes will really kick up this BBQ. Are you hungry yet? I am.
Behind The Scenes
If you take a peek at my kusina, you will see a few basic items required to turn out terrific food. You don't need many different utensils but a few quality cooking utensils are necessary. Spend a little and buy quality. A wok, several different size skillets, several different sizes pots with covers, 2 spatulas, a set of tongs, a whisk, a grater, several quality culinary knives, a cleaver, a can opener and a measuring cup. There you have it. You can buy all these culinary items in the Philippines.
Herbs and spices. Don't forget those and you can also buy most of those in local supermarkets and delis in the Philippines. My wife grows several herbs in pots at our home. I enjoy collecting various imported and local sauces, which are not easily made at home. Louisiana Hot Sauce, Bagoong, Sarsa and Thai Garlic Chili Sauce are only 4 examples.
One of my favorite activities is grillin' and chillin'. We designed our own BBQ grill and had it made in a metal works shop. We paid P1,500 for it. Ace Hardware sells imported BBQ grills but be willing to pay P4,000 or more for a good one. Have your own made.
It's about time for a snack. I think I will make a Monte Cristo Sandwich.
(Visited 1,394 times, 1 visits today)