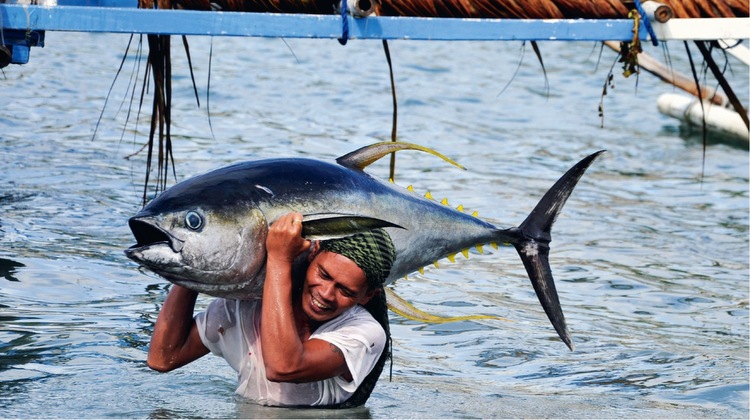 Most Filipinos eat fish or other seafood everyday and some eat fish almost every meal. My wife and our son included.
We are certainly in the right location for eating healthy seafood and at an excellent price for Filipinos and foreigners alike. Fresh oysters, mussels, clams, prawns, shrimp, crabs, scallops, squid, hundreds of different fish, canned sardines and canned tuna are readily available. Western health professionals recommend eating no less than 3 servings of seafood every week. It is easy and affordable to add seafood to your regular diet in Negros Occidental. There are also thousands of different recipes around to kick up all your seafood many notches.
Watch Out
During the past 6 years in the Philippines, I had 3 episodes of gastrointestinal distress. Even though I did not have to see a doctor, it was not fun during any of those occasions. Each time, the last meal I had consumed included a type of seafood.
The first time was after eating oysters from the town of Hinigaran. The second time was after eating frozen fish from Singapore that I bought at Save More Supermarket. The third and last time was after eating grilled blue marlin at a Bacolod restaurant. I will pass on naming the restaurant because the restaurant is well known with an excellent reputation and I had dined there a number of times in the past without problem.
After investigating, my wife and I learned that the oysters had been cultured in a filthy canal. That particular branch of Save More turns off their freezers every evening at closing time. Therefore, the frozen food, including the fish from Singapore that I bought, is thawed and re-frozen again and again. Concerning the restaurant grilled blue marlin, we concluded it had probably been out awhile, on display, without being refrigerated. It was on ice but it may have been on display since the day before.
Since that time, I also learned that due to the possible high mercury content, it is best to limit your consumption of marlin, tanigue, mackeral and sea bass.
Buying Fresh And Prepackaged Seafood
Of course, fresh is much better. The eyes of the fish should be clear and not cloudy. The flesh should be bright and firm. Avoid buying fish or any seafood that has bruising or discoloration. Do not buy shellfish that have open shells, as the shells should be completely closed. I have seen very fresh mussels and clams with shells that open and close. This should be fine, as it means the shellfish is usually alive and about as fresh as you can get. If any seafood smells bad, walk away. Seafood should smell pleasant, like the ocean or a mountain spring.
My wife is an expert in buying fish. She goes to 3 different public markets to buy fresh fish. She knows when the fisher folk arrive with their catch of the day. It doesn't get much fresher than that unless you catch it yourself.
I buy live catfish that are cultured in a rice paddy near La Carlota, Negros Occidental. The farmer also cultures rice paddy eel.
There are probably 50 different brands of canned sardines sold in the Philippines. Local sardines cost P11-P15 per can. Imported sardines may be as much as P60 per can. My 4 favorite brands of Philippine Sardines are Mega, Victorias Spanish Sardines, Ligo and 555. All are export quality. Most canned Philippine sardines are packed in tomato sauce. Victorias Spanish Sardines are canned in Victorias City, Negros Occidental, about one hour outside Bacolod Ctiy.
Century and San Marino are the two most popular brands of canned tuna. San Marino makes and markets corned tuna, with texture similar to corned beef. This brand is great when making a fish taco or fish burrito. I buy Century Tuna when making tuna salad and for making tuna sandwiches. Cans are P23-P36, depending on the size.
I know 100% that SM Supermarket does not allow their frozen food to thaw and be re-frozen due to turning off the freezers at closing time. I have been buying frozen cream dory fish fillets at SM for years and never a problem. Cream Dory is great for making British style Fish & Chips and for making Southern style fried fish.
I grew up eating fish, as my dad was an avid fisherman. I also enjoyed fishing most of my life when I lived in the USA. We ate our catches.
There is no real need to ratchet up more seafood in my regular diet because I often eat seafood. Just last night, I had deep fried bangus fish, southern style. If you want to have a healthier diet, I highly suggest eating more fish and other seafood. You will have hundreds of selections in most areas of the Philippines.
If you buy whole stingray, be sure to keep the tail. Aswangs are deathly afraid of the stingray tails.
(Visited 5,918 times, 1 visits today)