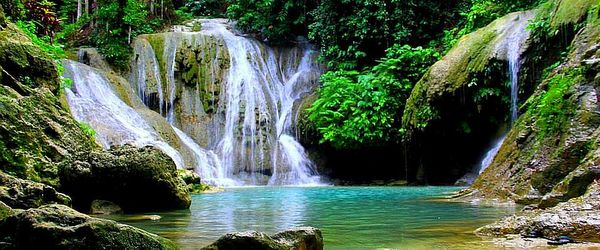 It is really not anything new to me but to many others, the recent published medical studies linking nature to health has been a buzz. The research indicates that people who are outdoors the most and have contact with nature seem to be less prone to illness than those who spend most of their time in the cities or indoors. More people in other countries are now getting away for the weekend in countryside settings to improve their health.
The Philippines is a Fountain of Health because of its abundance of Nature.
The Nature of Bacolod City
Even in mid-size cities in the Philippines, you can still maintain contact with nature. We live in a city subdivision in Bacolod but we see many tall trees, which are not palm trees. On our side of town, you will see carabao, goats, cows and chickens. My wife grows orchids, we maintain a vegetable garden, grow herbs and we grow fruit trees right in our subdivision. We maintain daily contact with nature.
There are many places you can visit right in Bacolod City to enjoy nature. May's Organic Gardens is one of our favorite places to visit, near Barangay Sum-Ag. We are surrounded by nature and can take a swim in their lagoon style pool with a net covering.
The downtown Capitol Lagoon is a park and the body of water is teeming with tilapia fish, which you can feed. Vendors sell the fish food on site.
We also have another favorite, which we have visited a number of times. The Negros Forests and Ecological Foundation Conservation Center. It is located near the Lagoon. The Conservation Center only charges P20 per head and you can see many of the endangered species of Negros Occidental. Doves, cockatoo, eagles, spotted deer, wild hogs, flying fox and other endangered species are housed at the Conservation Center in a natural habitat setting as much as possible. I have been to the Manila Zoo and other zoos in the Philippines. Our own Conservation Center is world class and better maintained than any zoo I have seen in the Philippines.
The Nature Of The Province
Nature is at every turn. We lived at our farm full time for 2 years when we first made the move to the Bacolod Area. We were growing sugarcane at that time, together with rice, vegetables and many tropical fruits. We had geese, chickens, turkeys, ducks, goats, pigs, carabao and cattle. In the distance, we could see Mt Kanlaon, an active volcano. Nature in full force. Our farm is still a working farm and we still visit and spend time at our farmhouse on weekends and school vacations. It's a great place.
Mountains, waterfalls, beaches and growing agriculture are abundant in the province.
Mambukal Hot Springs and Mountain Resort in Murcia is one our favorite places to visit and it is only about a 25 minute drive for us. We have been there many times, including once earlier this month. It will be hard to find any scenic location of nature better than Mambukal.
Compuestohan Highland Resort in Talisay has only been our destination once but we really enjoyed the mountain and its cooler temperatures.
There are many beautiful beaches in Negros Occidental and we have been to many of them over the past 6 years. Jomabo Island off Escalante, Punta Bulata near Sipalay, Batang Peninsula Beach Resort in Himamaylan and Cononoy and Paradiso Beach Resorts in Hinigaran are destinations that I highly recommend.
An article is a short space to cover all the beauty of nature found in Negros Occidental around many locations but I think you have the idea, di ba?
If nature improves our health, and I believe it does, the Philippines is indeed a Fountain of Health.
You Might Also Like...