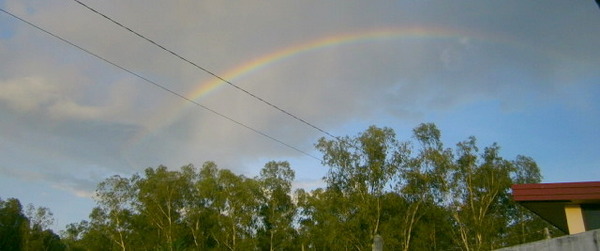 I took the above photo from the courtyard of our home in Bacolod City on Thanksgiving afternoon. Two days later, as I began looking at all our photos from our annual Thanksgiving Fiesta, this photo captured my attention in a remarkable manner! Initially, we were concerned of inclement weather, which would have moved our Thanksgiving festivities indoors, however, we never received any heavy rain! The rainbow proved symbolic to good times ahead, even amidst the threat of stormy weather.
The Philippines has been in the news the last several months with the reports of a political pork barrel scam. about an earthquake in Bohol and in other areas and about the devastation of Super Typhoon Yolanda in the Eastern Visayas. It is true that the Philippines sometimes has stormy revelations, however, there is also the brighter side, just like the rainbow shining from out of the darkness.
Blue Skies And Sunny Days
Ever since my first trip to the Philippines way back in 1986, when I lived in Manila for one year and I began my connection to the Philippines for the rest of my life, I have witnessed a number of storms over the years. However, there has always been the rainbow! Filipinos are very resilient people and they never fail to rise above adverse conditions. We can all learn a lesson about Life from Filipinos!
In Bacolod City, new malls are under construction, condo communities are being developed, new subdivisions are being built, new pickup trucks and SUVs are on the city streets more than ever, crime continues to be on a downward spiral, the air is fresh and there is government subsidized housing for the poor squatters. Squatter areas are being removed slowly but surely and the residents are relocated into better living conditions.
The expat community is growing all over the Philippines and the Bacolod Area has one of the fastest growing expat communities in the entire Philippines.
Every Day Unfolds A New Adventure
It is not only a cliche I invented but oh, so true, however, you have to get yourself off your seat of good intentions to discover it! A new adventure awaits you just around the next corner but you cannot discover it sitting at home. Get out and go places, the man said!
Take in the annual Jazz Festival, go to the Art District, go to one of the beach resorts, take in a dance club, go to church on Sunday, chow down at one of the fine restaurants, hit one of the casinos and gamble in moderation, go shopping in one of the many malls, catch a movie in one of the cinemas where tickets are only P150 for first run movies from the USA and mingle with the local Filipinos in your area. It is always exciting! You will make lifelong friends.
Catch a rainbow and I know you will once you have retired to the Philippines!
You Might Also Like...