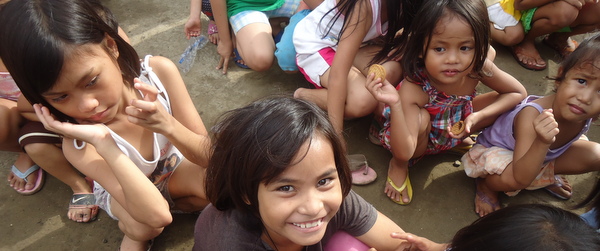 The Filipino people are simply amazing! Many face economic hardship daily, they often endure natural calamities and other disasters and life is a struggle for many if viewed from the Western logic, yet many are still happy everyday. They can still break out with such a fabulous smile even during tough times.
The children in my article photograph live in San Nicholas, Cavite, and their village was flooded last week due to the torrential rains. Some families were informal settlers, poor farmers, small sari sari store operators and while they do not have much by Western standards, some lost everything they had, so it was a great loss to them. However, they did not lose their fantastic smiles! They did not lose their faith, either, because they know that tomorrow will bring them a blessing. Many Filipinos have very strong religious beliefs and there are many more faiths here than only Catholic.
Giving Back To The Community
I personally know a number of expats who dearly love the Filipino people, the country and the culture and since the Philippines is now their home, they are involved in community projects. A number of expats in Cavite rallied to help the children and families in the aftermath of the floods. In the Philippines, there are a number of associations that we Americans are familiar with back home and one in Cavite is The Rotary Club. An expat friend, Jim Baumbach, is mightily involved in the VitaminR Program, which provides vitamins and nutritious food to the children, whose parents are very poor.
In Bacolod City, where I live, I know several Americans who are involved in free feeding programs for the poor children and adults. Others help the local people build sturdier and safer houses by teaching them carpentry skills and other building skills. Some are involved in collecting books to donate to one of the public school libraries. Yet others are assisting Filipino pastors in the mountain area of Negros Occidental to build a church and one mountain church I know of is complete with a brick pizza oven!
My wife and I were involved in an elementary school feeding program to assist 60 malnourished students. It is impossible to describe the joy we felt when we saw those children really blossom and grow after they received proper nutrition each week.
A Two Way Street
Some expats have personally asked me about volunteering for various community projects and they asked my suggestions. Despite what some may think, every expat in the Philippines is not here to take advantage of the women and to shine a bar stool every night until the early morning hours at closing time.
Many expats who have retired to the Philippines have a lot of free time on their hands and some have a burning desire to put their time and life skills to good use a few hours each week or each month. There is still a lot of time left over every week and month to enjoy the fun-filled activities that they enjoy in the Islands of Paradise
On the other side of the coin, I know some expats who would not lift a finger to help anyone unless there was something in it for themselves. It doesn't matter if it is Filipinos or their own countrymen, as they are out only for themselves.
Wherever you decide to retire in the Pearl of the Orient, you will be greeted by some of the friendliest and helpful people in the world. Filipino Hospitality is famous the world over and it is such a joy living in the land of wondrous smiles!
(Visited 584 times, 1 visits today)