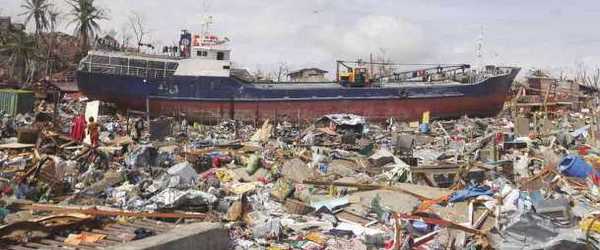 Thanks to Super Typhoon Yolanda, boats are now sitting on dry land, far inland! However, the greatest sorrow of this devastating storm is that an estimated 10,000 people in the Tacloban, Leyte area lost their lives. I do not think words can actually convey the grief, sorrow and sadness of those of us who live in the Philippines or who have a strong connection with the Philippines.
The international community has joined hands in sending assistance in many forms and relief goods to the Philippines. Other communities within the Philippines have also joined rank and collections of relief supplies and monies have been underway since word reached about the mass suffering in Tacloban and other areas in the Philippines. All told, Super Typhoon Yolanda has affected an estimated 10 million people in 41 provinces. It is difficult to imagine the strength and danger of a storm packing 200 MPH or 315 KPH powerful winds..until you see the aftermath!
A United Front
Among the famous help agencies, the Red Cross, the Salvation Army, UNICEF, the United Nations World Food Programme, World Vision, Global Medic, Save The Children, the American Jewish Joint Distribution Committee, the Catholic Relief Services and other charity agencies around the world are working around the clock to get the much needed aid to the victims of Typhoon Yolanda.
Many government agencies from countries around the round world are also going overboard to do their share to assist in providing the much needed emergency aid in the Philippines. The US Pentagon has already sent  military personnel and equipment from Japan to assist with the relief effort, including KC-130J Hercules aircraft, with equipment including tilt-rotor aircraft, which can operate without runways. A massive effort is underway!
My article is not a solicitation to donate because it is my philosophy that those who have the heart to donate will do so without being asked! People can read about the destruction, the massive loss of lives and the problems facing the rebuilding of wiped out areas, so they can fathom the need and it is up to them to kick in or remain insulated.
Super Typhoon Yolanda in Negros Occidental
The Governor of Negros Occidental, Alfredo Marañon Jr, has declared Negros Occidental under a State of Calamity, following the devastation left by Yolanda. Overall, Negros Occidental was spared from the powerful destruction of the typhoon, however, more than 10,000 houses were destroyed. There was only one reported fatality in Negros Occidental, yet, it could have numbered hundreds or thousands more.
Relief operations are underway, as monies for housing material to rebuild and emergency goods are being distributed.
Personally, we did not have any damage to our two houses. No one in our family or among our many friends were injured. Our newly planted rice crop was not destroyed and none of our livestock suffered injuries. We are very thankful and we are counting our blessings! At our house in Bacolod City, we had a power outage for 30 hours.
Annual Calamities
Annually, the Philippines is always hit by natural disasters and calamities. Among them, a number of typhoons, earthquakes and sometimes, volcanic eruptions. Without failure, around Christmas time you can count on a major calamity, as the local saying goes! It has certainly been true the last 4 years around November and December.
Due to the massive coastlines of the Philippines, the many islands, the native houses and lack of emergency preparedness in some extreme rural areas, the destruction in the Philippines is often staggering compared to disasters in more developed countries. However, no matter how developed, there is not one country in the world that can control Mother Nature!
Living in the USA for 45 years of my life, I was not exactly living a risk free life concerning natural calamities! In California, we had earthquakes, in Rhode Island, we had snow and ice storms with an occasional hurricane, in Alabama, we had killer tornadoes and in Florida, there was hurricane season every year. I have weathered a few hurricanes in my lifetime in the USA! I was in Florida when Hurricane Andrew totally destroyed Homestead and Florida City.
Typhoons, Earthquakes and Volcanoes are part of the Philippines, however, even the USA is not totally free from natural disasters and calamities, which can be called Widow Makers!
(Visited 1,132 times, 1 visits today)