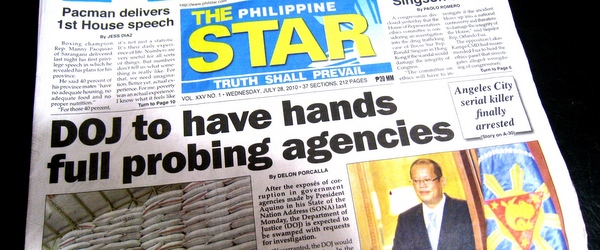 There are always many interesting things going on in the Philippines and there is never a dull moment around my house or in Negros Occidental! October 16-20 kicks off the Main Events and the last weekend of the annual MassKara Festival in Bacolod, The City of Smiles. MassKara is the Bacolod version of Mardi Gras and Carnival, only without the public nudity.
The next election in the Philippines will be held in May, 2016 and the way things are heating up, you would think the election is next week! Philippine politics can sometimes be volatile and with the election of a new President of the Philippines, the situation is indeed shaping up to be volatile. President Aquino is not allowed to seek a 2nd 6 year term due to Philippine Constitutional limitation, so the Philippines will have a new President in 2016. Vice President Jejomar Binay has already announced his candidacy for President and has been leading in the public polls, while others are behind the scenes trying to promote their favorites, although none have officially announced a run for Malacanang.
The Philippines DOH, Dept of Health, is in much discussion with President Aquino concerning sending a medical team to West Africa to help fight the Ebola outbreak. However, there is still much to consider and discuss!
Making The Foodie Scene
A number of expats with their wives & children recently met up at Anak Ng Baka, aka ANB Steak Room, at the Avenue Suites Hotel in Bacolod. Fabulous food, a great dining atmosphere, ice cold beer and  prompt service. What's cooking? Steaks starting at P199, Buttermilk Fried Chicken, Shrimp Scampi, Diverse Pasta, Philly Cheese Steak Sandwich, Burger Steak, Burgers, Fried Twinkies and a whole lot more! We all had a terrific dining pleasure.
My family, friends and I dined at Gunny's All American Hamburger Restaurant a week or so ago, located on CL Montelibano Street, next to St La Salle High School. Awesome burgers! Gunny's is owned by a US Marine Vet and he knows what a good burger is. At Gunny's, you choose the weight of the ground beef you want the cook to use to make your burger. It is up to you! The Gunny Burger, one of 10 on the menu, can be 100 grams or you can go all out for the Super Max, which is 1,000 grams of pure beef! Don't forget to order fries! These are Steakhouse fries, cut from a large potato and double fried before your eyes. All the burgers are grilled on a large charcoal grill and you can see the cook taking good care of your burger, grilled onions and toasted bun.
If you like authentic Lebanese Cuisine and Mediterranean Cuisine, Kabbara Cafe, located on Burgos Street at Hervias Heritage Square is for you! Check out their Hummus, Beef Shawarma, unique Salads and their other menu items. I know you haven't heard of all these other dishes but be adventurous and try a few new food items!
We enjoy excellent pizza and we discovered a new restaurant that probably has the best pizza in Bacolod City! For only P275! The location of 365 Modern Cafe is on BS Aquino Drive, near Doctor's Hospital. 365 has fabulous tea drinks, including Rock Salt and Cheese Tea. Wow! Refreshing and Delicious!
The Buzz
Well, there you have it! This is the latest balita during the first two weeks of October in Bacolod and around the Philippines. I've lived in places in the rural south of the USA where the most excitement was when the potato chip man came around, relatives had a fresh batch of home brew in the dry county and when the ice cream truck buzzed the neighborhood. Seriously, but that was many years ago.
I first discovered Wow Philippines in 1986 and it has always been more fun in the Philippines for me! There's something for everyone in the Islands, where life is fun. Everyday remains a great adventure in Paradise!
You Might Also Like...
(Visited 1,554 times, 1 visits today)