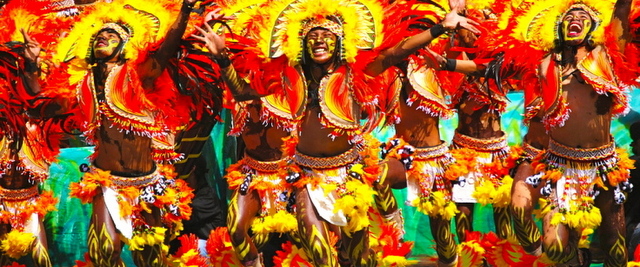 One of the aspects of the Philippines that really captured my attention 28 years ago is the Filipino's love of celebrations, parties and festivals. This fabulously exciting atmosphere in the islands has only grown stronger over the years! I don't know any other place on the planet where people can have so much fun with so little! If you could be a Filipino for one day, you would learn what happiness really is. You would want to be a Filipino the rest of your life. Of course, you cannot be a Filipino but you can retire to the Philippines at any age, live among Filipinos, develop relationships with Filipinos and experience such wonderful vitality in your life by boogieing on down almost daily in the Filipino Culture!
What A Wonderful World
On any given day in the Western Visayas, you will find a fiesta. It could be an official festival, a party among friends, a celebration gathering for an accomplishment or an impromptu meet up in the barangay. Yes, spur of the moment is life in the Philippines. Hey, that is me!
I spent 36 years working for someone else but there won't be any more days like that! I work for myself and most of that work involves enjoying life! In the Philippines!
There are many Barangays and Puroks in Bacolod City, where people live, and you never have to go far to find a fiesta of one sort or another at any given time. The road goes on forever and the party never ends!
Panaad sa Negros Festival
During the pre-opening of the Panaad sa Negros Festival last Sunday night, it was better than the Super Bowl to me! Music, dancing, excellent food & drinks and marvelous sharing with family & friends until 2am. At midnight, fireworks lit up the sky to kick off the Panaad Festival! I was locked and loaded for full tilt boogey and rock n' rolling for the next 6 days!
You may ask yourself, "What the hell is the Panaad sa Negros Festival?" It is an explosive annual event in Bacolod City, located in Panaad Park, and the 19 towns and 13 cities of Negros Occidental have an exhibit to showcase their fabulous island! Each town and city are similar since all are Negrense, yet each location has it's own uniqueness.
Handicrafts of all types, organic produce, prize livestock & fowl, local delicacies & specialties and the coldest beer in town for 6 days! If you have ever attended a State Fair or a County Fair in the USA, then you can imagine the Panaad sa Negros Festival, only kicked up a few notches! "Turn me loose, I'll never be the same!" That will be your words if you ever attend one night of gala at the Panaad sa Negros Festival! I say that every time I attend a night during the Panaad and I have been attending every year since 2009!
Beauty Pageants are a very important part of the Filipino Culture and it is not left out of the events at the Panaad. The crowing of Miss Panaad sa Negros is an event covered by the media all over the Philippines. Yes, she is charming, talented and beautiful, not only this year but every year! I know guys who skip the crowning but are more interested in seeing the swim suit competition, an event held days before. Come on now, you know it's true!
I am already looking forward to Panaad sa Negros 2015 and I am extending a personal invitation to you. If you are in the Philippines, drop what you are doing and make your way to the City of Smiles next April. I will see ya here!
(Visited 3,394 times, 1 visits today)