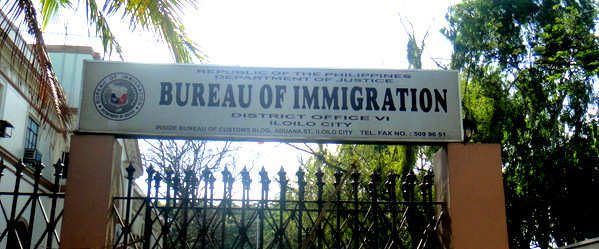 If you are going to live in the Philippines, one of the best friends you can make are with the government workers at the Bureau of Immigration, aka BI. If you treat them nicely, they will treat you nicely. That my friends, is the Key!
One must understand that every BI Office in the country does not provide the same services. There are BI Field Offices, District BI Offices and then there is the mother of all offices, the Main BI Office in Manila.
Every BI Office has a dress code for visitors who enter to do business. For men, it has been no shorts, tank tops or sandals allowed. It has been noted recently that long shorts are now allowed and certain types of sandals. However, headgear of only a religious nature are now allowed to be worn inside a BI Office.  The Philippine Bureau of Immigration is almost constantly undergoing changes to make their services to the foreign visitors and residents better. Some say otherwise, in that things are getting more difficult, however, the ones to blame are the foreign visitors and tourists who push limits with the system! Every expat does not want to play by the rules but rather, they look for loopholes and ways to save money for living in the Philippines.
First Impressions Are Lasting
Many expats visit the Philippines aboard PAL, Philippine Airlines. I have flown PAL many times over the past 27 years and it was always my favorite international flight carrier. For me, the flight over was like an in-air Filipino Fiesta! Filipinos were excited to be returning home. However, some foreigners want to test the limits on the PAL flight by drinking too much and getting involved in altercations with the Filipino passengers. Other foreigners make crude remarks to the flight attendants. Every foreigner should know that even if they have an approved Philippine visa in their passport or if they are only coming in on the initial 21 or 30 day tourist visa given at the point of entry, their entries into the Philippines are not guaranteed! The PAL flight attendants and stewards can report the behavior of an undesirable passenger to BI and upon arrival, they are denied entry to the Philippines. They are put on the next flight home and blacklisted from the country forever.
The Bureau of Immigration Office
Nowadays, I mostly go to the Bacolod BI office once per year. The reason is that foreign residents must file their annual report within the first 60 days of the year, every year. The annual fee is P310 and it is not a long drawn out affair. I am usually in and out in less than 30 minutes. Sadly to say, more times than I would like to admit, I have witnessed foreign residents of the Philippines raising hell with the BI staff. Even to the point of singing the old Tom Petty song, "No, I won't back down!" That is simply craZy! If a foreigner overstays his visa in the Philippines, yes, there is a fine. If the foreigner tries to enter the BI Office while wearing inappropriate clothing, then they will not be allowed in. Some foreigners yell that their rights are being violated. Yeah, Right! It is best, without question, to back down and just follow the rules. If there is a problem, you can discuss it in a civil manner without yelling, cursing, screaming, threatening and demanding rights that are given to Philippine citizens only!
Even though I do not socialize with the BI staff in Bacolod, we are friends, when I enter the office. They know me from my years of going in and the staff rarely have a changeover unless someone retires. I know them all, too! If foreigners try to butt heads with any Philippine government staff members, they will be on the losing end. The staff are not insensitive to problems that may arise and they will respond if you smile, speak in a normal voice tone and do not, ever, insinuate that because you are a foreigner in their country, they are your underlings! It doesn't work. It is also rude and impolite, so avoid it completely.
I have rarely had any problems in the Philippines over the past 27 years but when something minor arose, I knew how to conduct myself to get the results and resolutions I was seeking. Have a great experience in the Philippines!
(Visited 1,360 times, 1 visits today)