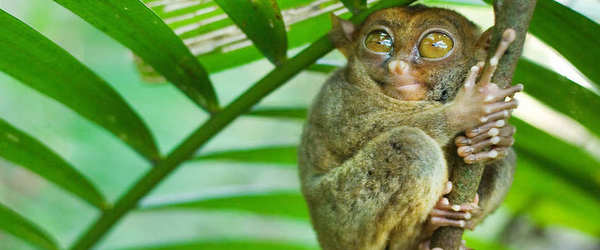 It does not matter if you are a night person or a day person, when visiting the Philippines, you will be looking for a place to lay your head for much needed rest from all the excitement! Don't be concerned, as there are so many fabulous places to lodge in the Philippines to meet just about every budget and you will not be sleeping in a tree like my little tarsier buddy. Isn't he cute?
I was very lucky during my first trip to the Philippines way back in 1986 in that I received 10 free days in the Century Park Sheraton when I purchased my air ticket from Alabama to Manila. Those kind of deals may not be around these days but you can ask you local travel agency.
Upon initial arrival, where to lodge is most always an important issue with the majority of travelers. I admit some travelers are more adventurous than others and they can travel with only a backpack and look for a place to fall once they arrive. Others are content throwing up a tarp and sleeping on the beach. Well, those options are available in the Philippines, if you are game.  I could do those things years ago but not these days. I enjoy a comfortable bed and air conditioning!
Where to stay
Depending on your lifestyle, there are a number of conventional options available in the Philippines. There are extravagant 5 star hotels, very nice budget hotels, pension houses, hostels, boarding houses and beach nipa huts among the lodging choices. I had never heard of a pension house before I made my first trip to the Philippines and I thought they would all be a run down flea bag motel type lodging but that is far from the truth in most instances. For sure, some pension houses are not all that and best to avoid, however, many are as nice or nicer than some budget hotels. You most likely will not find a business center, a swimming pool or a gym in a pension house but otherwise, you will find a nice place to lodge for about $12-$20 USD per night. Many pension houses are located in the downtown area, so transportation is not a problem. Bacolod Pension Plaza is one such example in the city where I live. There are many restaurants within short walking distance and SM Mall is also nearby. Some pension houses have small restaurants and bars but all do not.
As I always stress, prices have a very wide range in the Philippines, depending on location and how celebrated the establishment is. Accommodations are no exception.
Traveler beware! In some areas of the Philippines, motels, lodges, inns and courts are mostly frequented by those who hire prostitutes or who have bar pickups and these establishments give hourly rates. In some smaller towns or municipalities, there are not any places to lodge and unless you personally know someone with a roof over their head, you will be out of gas!
Whether you come to the Philippines to enjoy the accommodations of the rich & famous, are looking for a moderately priced hotel room, can be happy in a pension house or if you are looking for a rustic nipa and bamboo beach cottage, the Philippines has a place waiting just for you. Sweet Dreams!
You Might Also Like...
(Visited 415 times, 1 visits today)