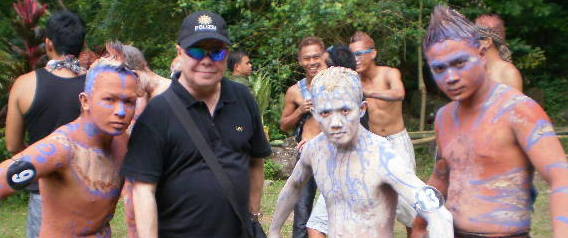 Let me introduce you to a few of my buddies, who I met at Mambukal Mountain Resort. They are getting ready for the Mambukal Mudpack Festival, which begins the third weekend in June. This is one event you do not want to miss in Negros Occidental. You may ask, "Well, how do I get there?" Mambukal Hot Springs and Mountain Resort is located in Barangay Minoyan, Murcia, which is the town located about 12 km outside of Bacolod City, Negros Occidental. There will be many foreign and local tourists on hand to witness the sensational events of this year's Mambukal Mudpack Festival.
Spectacular Events
The theme of the Mudpack Festival is promoting the preservation of our beautiful environment and the harmonious living between man and nature. Artists from all around the Philippines will be in attendance to showcase their fabulous talents, such as artwork, ethnic music & dance and unique handicrafts.
The Clay Body Painting Competition is like none other event you have witnessed anywhere. The participants are really creative and with the wonderful nature environment of Mambukal, you can get the true feeling of being in a rainforest. The drums, other percussion instruments and pan flutes will take you on a journey into times past, when nature was totally unspoiled by man.
The Tribal Dance Competition will blow you away, as you witness the dancers in clay body paint, from head to toe, performing the ethnic dances that one just does not get to see everyday.
Most of the guys I personally know can very respectfully appreciate beautiful women and some of the most beautiful women in the world are right here in Negros Occidental! You will not want to miss The Miss Earth Mambukal Pagaent, which is held during the Mudpack Festival.
While attending the Mudpack Festival, you can get into the swing of things by getting the clay body painting on as much of your body as you like. You can also get a temporary tribal tattoo. The Mambukal Food Court has several good places to eat and I can personally recommend Ikea of Kabankalan! They have a mouthwatering pure beef thick burger that is so large, it takes both hands to hold it. Lots of good Filipino food and seafood, too.
Please mark the third weekend in June down on your personal calendar, so you do not forget and miss one of the more entertaining events of the year. I really hope to see you at the 2013 Mambukal Mudpack Festival. I never miss it!
You Might Also Like...
(Visited 702 times, 1 visits today)