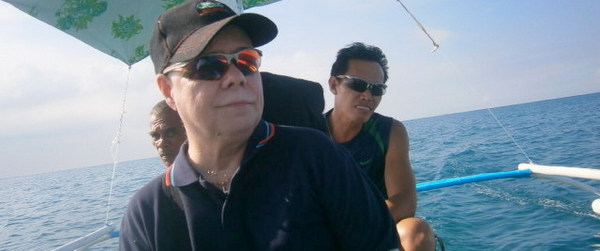 Some may think that I am only talking it up when I say that everyday unfolds a new adventure in the Philippines but this has been so true in my life, even after living here year round for the past four years. No, I haven't left the Philippines once since 2009. If you are looking for adventure, you have to go out of the house, as adventure is not going to come to you!
Negros Occidental is the 2nd largest populated province outside the Metro Manila area and the 9th largest province in terms of land area. There is never a shortage of things to do in Negros Occidental, where my family and I happily live! Recently we visited Jomabo Island, located off the coast of Escalante, Negros Occidental. We took two Filipino friends with us but none of the 5 of us had ever been to Jomabo Island. Due to road construction along the way, it took us 2 1/2 hours to drive from Bacolod City to Escalante but it was well worth the trip. We passed through Cadiz and Sagay City, both a first for us. It was a very fabulous road trip with beautiful scenery and interesting sites to see along the way.
Once we arrived in Barangay Old Poblacion in Escalante, we negotiated the price of chartering a boat for a round trip to visit the island. We settled on P1,300, which is about $30 USD, for the rest of the day, as the skipper would take us over to the island, wait for us and bring us back to Escalante.
Jomabo Island
Wow! The sea is emerald and blue in color and the water is so clear that you can see down to the bottom in many places and you can also see fish swimming. The boat skipper gave us a very smooth but fast ride to reach Jomabo Island in about 20 minutes.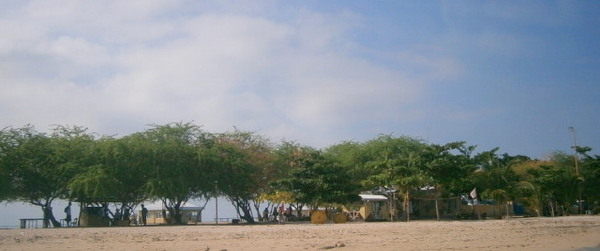 Jomabo Island Beach Resort is the only resort that I have been to where one does not have to rent a cottage for the day to shelter from the sun. There are so many luxuriant trees on the island, providing shade from the hot tropical sun. Admission to the island is P80 per head, which is less than $2 USD. BYOF! Bring your own food, as there are free BBQ grills provided. A great place to have a cookout or a picnic.
If you want to spend the night on Jomabo Island, there are a number of rooms available to meet your budget and needs. All the rooms are large enough for 4 people and more and prices start at $60 USD per night. For the adventurous, tents are allowed on the beach and the resort will even rent you a mattress and two pillows! I will add that the resort staff at Jomabo Island are among the best I have encountered anywhere in regards to friendliness, helpfulness and willing to meet your personal needs.
Snorkeling, kayaking and swimming are the main activities you can enjoy. If you are looking for a world famous beach resort with pulsating music blaring, glamorous night life and elbow to elbow crowds, Jomabo Island is not for you. However, if you are looking for the perfect escape with the beauty of an unspoiled natural white sandy beach, tranquility,  the sounds of the rushing waves that are clearly audible and soothing and a place you feel is like your own private resort, Jomabo Island will not disappoint you.
Many expats are excited to visit the famous hot spots in the Philippines but my greatest enjoyment is going where few have gone. It is the real Philippines experience for me. I am no stranger in Paradise because Paradise is my home and I live every second of it to the fullest!
(Visited 781 times, 1 visits today)