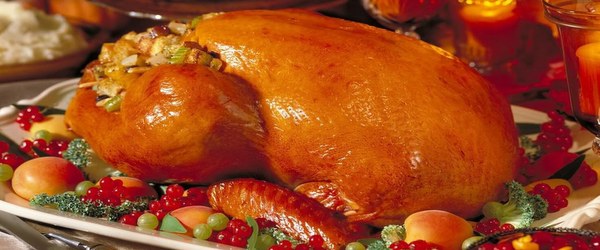 I have been asked many times over the years whether there is Thanksgiving in the Philippines. The answer is always "yes and no." The majority of Filipinos do not celebrate Thanksgiving in the Philippines. However, there are many Filipino-Americans who have retired to the Philippines from the USA and they indeed celebrate Thanksgiving here. Many supermarkets in Bacolod stock expat-friendly food year-round. I've seen Butterball Turkeys in the supermarket freezer showcases long after and long before November and Thanksgiving! Cranberry Sauce as well, year-round.
Many Filipinos are not only open-minded but very excited to be included in the Thanksgiving celebration in the Philippines. They are very happy to be invited to the foreign family member's Thanksgiving table to share a wonderful meal, to celebrate and to give thanks for the year's blessings in life. This is the only time of the year most will eat turkey and they enjoy tasting the delightful side dishes, which compliment the Thanksgiving meal.
Thanksgiving Gougers!
The cost was not the only factor that caused me not to have turkey this Thanksgiving. However, I do not like supporting gougers! Some supermarkets gouge foreigners with very inflated prices and I don't like supporting this practice. My brother in Florida paid 99 cents per pound for a turkey at Walmart earlier in November. I realize that supermarkets are in business to make money. In October, Butterball Turkeys were P240 per kilo at SM Supermarket. Not too bad for imported food. SM sold out of turkeys. In November, Butterball Turkeys were selling for P317 per kilo at Metro Supermarket. Turkey is getting expensive!
One day before Thanksgiving, Save More Supermarket was selling Butterball Turkeys, as a promo, for P150 per kilo! Now, we're talking. However, we had already planned our Thanksgiving menu and has purchased most of what we needed.
Rock Cornish Game Hens
The excitement started on Thanksgiving Eve! Something new, unique and different in the Philippines. Rock Cornish Game Hens. I bought them at Robinsons Supermarket two weeks before Thanksgiving. Their prices ranged from P216 to P400 for the game hens, depending on their weight.
I stuffed the game hens cavity with garlic, herbs, and spices. I oiled the hen's skin with olive oil and applied a rub, which I made. More herbs and spices. Instead of roasting the Rock Cornish Game Hens in our electric roaster, we took them to a Filipino friend. He is an expert in roasting pigs and chickens! It took him about one hour to roast the game hens to perfection. The Rock Cornish Game Hens were a Big Hit on our Thanksgiving table!
The Rest of the Celebration
I had also purchased a large package of imported Australian Beef Brisket for only P200. I marinated the brisket overnight in pineapple juice, Lea & Perrins Worcestershire Sauce, garlic, Kosher salt, and ground black pepper. On Thanksgiving, we put the beef brisket in the pot, added large potatoes, nice carrots, sweet yellow onions, and cabbage. It was fabulous on our Thanksgiving table.
To add to the spread, we had roasted pork, sweet potatoes, and rice. Everyone ate their fill and we have plenty of leftovers.
The beverage of choice for adults was a local craft beer. Belgian Witbier, brewed in Laguna Philippines and sold for only P32 per bottle. Can you beat that?
If you live in a mid-size or a large city in the Philippines, or can at least shop in one, you can have a great Thanksgiving! Maple Leaf Ducks, from the USA, are available at several supermarkets in Bacolod, which is a mid-size city.
Next on tap? We are already looking forward to the Christmas Noche Buena. The large family meal at midnight on Christmas Eve. I wish you were here! It's going to be awesome!
You Might Also Like...
(Visited 1,569 times, 1 visits today)