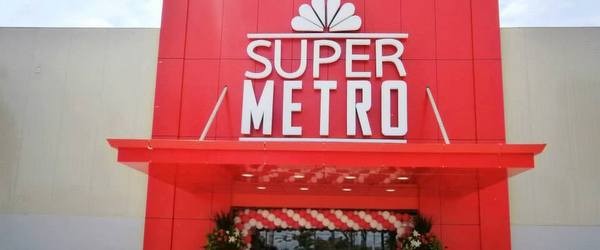 Ever since the new Super Metro Store opened in Talisay City, right outside of Bacolod, the BUZZ among the expat community has been about all the favorite expat food items that are available in their store!
Imagine a Super Wal-Mart in the Philippines! There is not one  Wal-Mart in the Philippines but Super Metro is the next best thing! A number of cities in the Philippines have a Super Metro and they are gathering both Filipino and expat shoppers by the droves. There is not only a large variety of food products at Super Metro but every week, they have Super Promos. A recent example is if you purchase P1,500, you can buy 1 kg of Cream Dory Fish fillets for only P31! Now, is that a deal or what?
Hunting and Gathering Expedition
Just yesterday, two expat friends drove up from Kabankalan  and Himamaylan, Negros Occidental, so they could go shopping at Super Metro. That my friends, is about a 2 hour drive, each way.
There is certainly nothing wrong with Filipino food  but most people are happier eating the food they grew up with and enjoyed in adulthood in their own countries. Filipinos are no different when they live and work abroad. They hunt and gather Filipino food products at the local Asian groceries where they live abroad. What is great about Super Metro is that many of their items are very reasonable and you are not being charged 5 times the amount one would pay in their home country for certain food items!
It was my expat friends first time to shop at Metro and needless to say, they went wild and were very happy! Cans of Hormel Chili, Dinty Moore Beef Stew, Bush's Baked Beans, Old El Paso Refried Beans, Black Beans, Pinto Beans, Campbell's Soup, and such items were flying off the shelves and into their shopping carts!
Some of the items at Super Metro that I enjoy include Eggo Blueberry Waffles by Kellogg's, the awesome deli meats and cheeses, the panini bread, baguettes, Bisquick for making Southern style biscuits, banana walnut bread, plums, asparagus, celery, baking potatoes and yellow & white onions. Yesterday's promo was two jars of German Mustard for the price of one. P167 was the price. If you are going to buy German Mustard, you just gotta buy Bratwurst and Sauerkraut! No problemo. Super Metro has both in stock.
Among the deli meats, Metro has honey ham, smoked ham, black forest ham, salami, lyoner and pastrami. The average price for a package of deli meat is P95, You can buy a block of Parmesan Cheese for P140 and grate your own over pasta! It sounds great, doesn't it? Several of the other supermarkets in Bacolod City have some of the items I mentioned in my article, however, they are in less quantities and they cost more! I have seen food items in Metro that I had not seen anywhere in our area of the Philippines over the past 4 years. Super Metro rocks!
I am not advocating drinking, however, Super Metro has a large selection of imported and local beer and liquor. Bombay Gin, anyone? No thank you, but I do enjoy a cold beer! One of my treats from Metro is to buy a couple of bottles of nice imported beer. Such as Crown Lager from Australia, Beck's from Germany and Newcastle Brown Ale from UK. Wow! One sip from any of those and the taste is dancing in your mouth! Of course, there are several good local beers in the Philippines, such as San Miguel, Red Horse and my favorite, Beer na Beer!
Super Metro is much more than only food! Clothing, shoes, jewelry, electronics, appliances, toys, housewares, and school supplies are all available and at affordable prices. A quality electric fan is P1,000.
Since I have not lived in the USA for the past 13 years, Going to Super Metro is actually something to do and not just a shopping trip! It is an enjoyable experience because each week, I know I will discover a new treasure in the aisles!
You Might Also Like...