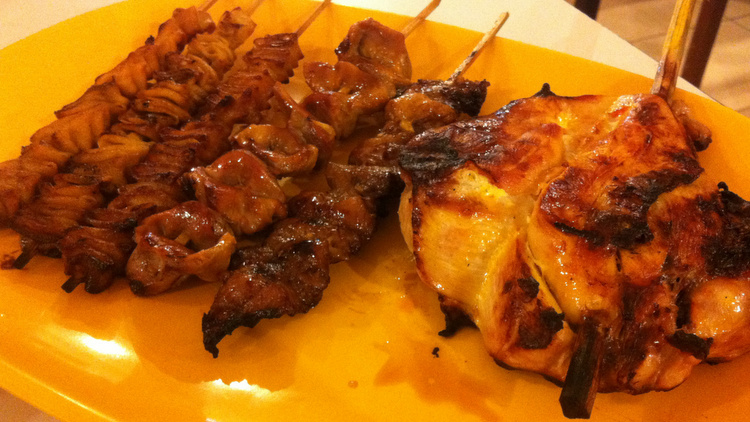 I am not an official Bacolod Restaurant Reviewer but I enjoy passing on information to other foreigners when I find a gem. My family and I very recently discovered a gem while dining out for lunch. Fatboys Restaurant, across from the Triangle in the Chinatown section of Bacolod City known as Shopping.
If I go to a restaurant and it is not worth a crap, I don't pass that information along. I am not going to affect a person's business in a negative manner. Maybe the chef was sick that day and the owner or manager had to grab a quick fill in. Maybe their normal stock was not delivered on time, resulting in some menu items being unavailable or substitutions of ingredients had to be made. Such is life of a restaurant owner in the Philippines. Even in Manila and Cebu.
Surprise, Surprise
Did you think you would ever find the famous southern American dish in the Philippines, chicken fried steak with white gravy? Fatboys has it and it is only P150 per large order, served with rice and a small side salad. Fatboy's chicken fried steak, aka pan fried chicken on their menu, is fabulous and I should know, being from the South.
When was the last time that you paid less than $2 for a cocktail in a bar or restaurant in your country? Fatboys has the Peacocktail for only P60. Vodka is the spirit and made with tropical fruit juices, such as mango and others.
Can you buy a made from scratch pepperoni pizza in a nice restaurant where you live for less than $4? You certainly can at Fatboys. Their pizza is very good, as we tried it recently.
Chef Kikoy at Fatboys is probably thinking of some new menu items to add right this moment.
I highly recommend that you check out Fatboys if you live in the Bacolod area or when you visit Bacolod. I think you will be glad you did.
Excellent Dining At Unbelievable Prices
If you are a person who enjoys dining out regularly in fine restaurants back home, you can afford to maintain your lifestyle in our area of the Philippines. You can also do it in Cebu. I spent a week in Cebu this month and learned the restaurant prices first hand. Knowing where to dine out can save you a ton of money and I am serious about that.
A relative in Florida and his wife are retired and they eat many of their meals in restaurants. Places like Texas Roadhouse, Cracker Barrel, Old Time Country Buffet, Cedar River Seafood, Ruby Tuesday's and a number of other famous full service restaurants. I know what they pay when they dine out and it is sometimes $12-$15 each person. A pulled pork sandwich and a beer at Sonny's BBQ will set you back $12 in Florida.
Yesterday at Fatboys in Bacolod, 4 of us dined out for P729 and that is about $16 USD, including our drinks. That is about what my relatives sometime pay for one meal alone where they dine out in Florida. The quality of food was not sub-standard at Fatboys. Their chicken fried steak was every bit as good as Lee's Famous Chicken Recipe Restaurant in Florida.
Not the Lone Ranger
Fatboys is not the only high quality restaurant in Bacolod or Cebu where you can eat very well at very affordable prices.
I can easily put together a Restaurant Crawl for you in Bacolod or in Cebu. Depending on what you want to eat, I know the best places to order it and at the best prices. Sounds fun, doesn't it?
There is one so called American creation I can eat at least once everyday. A chili dog. I keep my homemade chili in the ref and/or freezer at all times at home. Always available when I want to make a chili dog or two. In Cebu this month, I had a fabulous large chili dog at BH in Mango Square for only P98. It was almost as good as the chili dogs that I make.
In the Visayas, Bacolod is a food mecca, as is Cebu City. There are thousands of restaurants to choose from and I feel certain, you will find many that you enjoy.
If you eat to live, please raise your left hand. If you live to eat, please raise your right hand. As for me, I have both hands raised. What about you?
(Visited 3,293 times, 1 visits today)