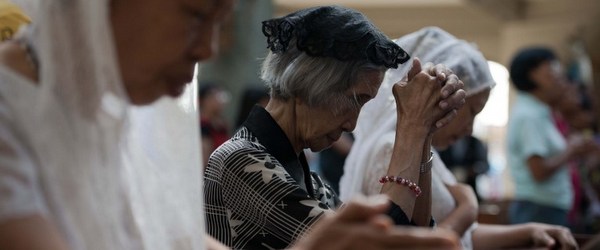 My father in law passed away on June 8 at age 84 after an extended illness. With relatives spread out in Manila, Zambales, Guimaras and in both southern and northern Negros Occidental, the funeral is not until Saturday, June 21. I was asked to be one of the speakers at the funeral service. It is a sad time but for me, I am happy that Tatay is no longer suffering and wasting away more by the hour, as he has for the past year. I never interject my own feelings or views to my family, which would be going against the Filipino Culture, however, it would have been terrible for Tatay to linger in his condition. Tatay loved the farm and that is where he went out from. It is where he wanted to be.
Even though Tatay did not speak much English, we still communicated and we communicated often. We always got along well and during the 10 years of our relationship, we never had an argument or a disagreement. He was a very wonderful father in law! I also respected him very much for his strong character, his love for his family, which included me, and his desire to want the best for everyone.
Double Whammy
For me, it is painful to see the grief of my wife, as she was very close to her dad. However, I know that no matter what I say to her in love, comfort and support, she will still feel the pain of the loss of  her dad and it will take her some time to adjust to her loss.
My wife also has the burden about her mom, who is age 75. Nanay and Tatay were married about 60 years. They rarely spent more than a night or two away from one another and only then when it was absolutely necessary! They were a great team, raising their children, running their farm and counseling their children when they became adults… as well as other family members.
The Wake
If you are married to a Filipina, you will come to know that Filipino families are large! I've attended more wakes, funerals and weddings the past 5 years than I had attended the previous 54 years during my lifetime!
Most often,  the dearly departed rest in the family home, usually in a white colored coffin with a glass top, for viewing. If family members are working abroad or even on other islands in the Philippines, the wake is often long, up to 2 weeks. Even if all the family live nearby, you can expect a wake of 7-10 days. At least that is how it is in Negros Occidental.
White is the color of mourning, not black as in the States. Brightly colored clothing worn to a wake or a funeral is considered disrespectful and inconsiderate, so don't do it! Save your fashions for another time.
The wake is a time of mourning but there are also some common activities that are acceptable to pass the time. There must always be some people fully awake during the wake! People seem to take turns as to who stays up all night long. Card games and mahjong games with low stakes wagering are not only accepted but encouraged. The widow or widower receives 20% of the gaming winnings. There is a contribution box for the proceeds and also for outright donations. This practice is very helpful to the survivors, as the money is used to defray the wake and funeral expenses.
There are so many people at the wake of Tatay that my wife's brothers had to put up an open sided tent in the front yard! Tatay was well loved and respected. I never heard one bad word about him and that is a great accomplishment in life.
Certain foods are taboo at wakes in our area. You cannot ever eat chicken! Pork and beef are also frowned upon, as most people eat fish and rice during wakes. Drinking beer, rum, brandy and wine is allowed and encouraged! You must have plenty of coffee on hand, especially for those who are staying awake all night.
During wakes and funerals, most grudges are put aside and most people would not dare create a disturbance due to fear of disturbing the dead. Otherwise, they may have a visitation from the dearly departed! No one wants to be haunted.
There are 4 more days of the wake for Tatay with more relatives gathering all the time. Wakes and funerals are also a family reunion of sorts, exchanging wonderful stories about the dearly departed and seeing family members again, often for the first time in years! Mixed emotions run deeply.
You Might Also Like...
(Visited 1,612 times, 1 visits today)