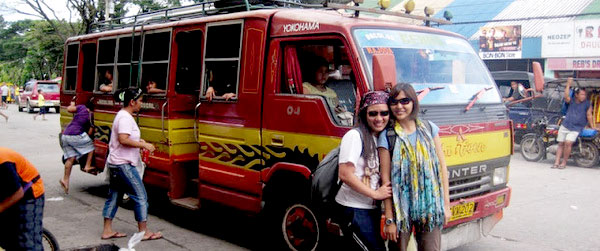 Concerning travel in the Province areas of Negros Occidental, if you need long distance public transportation, you basically have two choice. The Ceres Liners, which seem to number in the hundreds all over the island, and then there is the Double Tire Mini Bus. However, there are a large number of the double tire mini buses that I refer to as the Double Dutch Bus! It is really a more enjoyable ride during my personal experiences.
The Double Dutch Buses are always brightly painted on the outside, usually with a very unique and interesting scene. A stark contrast to the yellow buses, trimmed in black, which Ceres Liner has on the highways, roads and byways of Negros Occidental! Next up, you will hear it as soon as you board. The thumping bass of a great sound system. It is loud enough to hear but it is not ear-shattering. Nothing like you would encounter if you attend a Metallica concert, so kick back, enjoy the ride and enjoy the music!
Safety First
Another great feature of the Double Dutch Bus is that not all the drivers drive like a bat out of hell, endangering your life. On the Ceres Liner buses, they have a long and grisly history of being involved in terrible accidents , which snuff out the lives of many passengers in one fell swoop! I can't even begin to tell you how many Filipinos I know in Greater Bacolod who have lost family and friends that are directly tied to a Ceres Liner Bus and the crazy driver! It is not only the passengers who are in danger but anyone driving on the same highway as these death machines. Pedestrians and those standing by roadsides are often hit by Ceres Liners. It is common knowledge in Negros Occidental that if you are hit by a Ceres Liner, the bus driver is going to back up and run over you again! Believe it or not! A funeral is cheaper to pay for than a long term stay in the hospital in the Philippines.
A law suit against Ceres Liner? Forget about it, as you may well be dead before your case ever hits the docket!
An American friend was on a Ceres Liner several years ago and it was involved in an accident. He had major damage to his neck, which required his transfer to Cebu at Chang Hua Hospital, where he had delicate disc surgery. The surgery was a success but he is still recovering to some extent from the injury and surgery!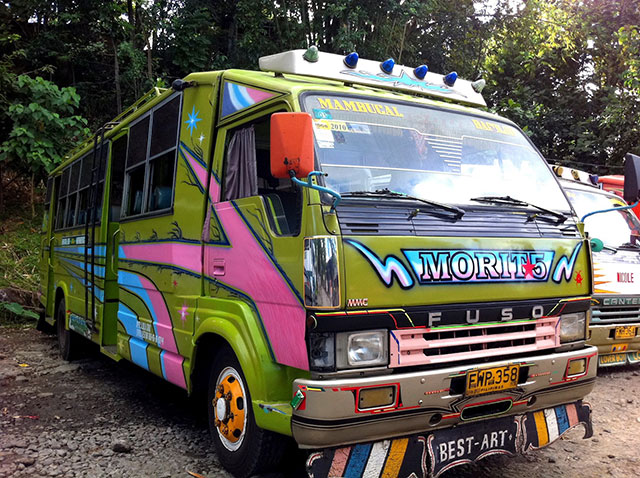 The Price You Pay
The fare on the Double Dutch Bus is P30-P35 from about 45 km-55 km outside of Bacolod to the City. The Double Dutch Driver makes his way past a number of locations in the cities, so you do not have to ride all the way to a bus terminal, unlike the Ceres Liner. Riding Ceres is another cost by having to get off at the terminal or a location not near where you are actually going, in taking an additional ride on a jeepney or taxi.
If you ride the best Ceres Liner, Ceres Tour Bus, you are going to pay about P100 for the same ride as on a Double Dutch Bus. It is true that the Ceres Tour has a DVD player and you can watch a movie but due to the one hour trip I am referring to, you will not finish the movie! I don't know about you but I hate watching a good movie and have to stop watching about half way through!
The Party Bus
That will be the Double Dutch Bus! Great music and lively atmosphere. The vendors who hop on board will have many things for you to buy in the form of snacks. Hamburgers, hot dogs, quail eggs, balut duck eggs, chicharon, buko pie, garlic fried peanuts, cashews, boiled peanuts, peanut brittle and many other local favorites. Soft drinks, bottles of water, bottles of juice, coconut water and even sometimes, cans of cold San Miguel Beer! How does that sound to ya? Sounds great to me and I have experienced this a number of times.
Before we bought our family vehicle, I always enjoyed my ride on the Double Dutch Bus. There are many to choose from and the better ones are the ones I am referring to in this article. Have fun and take a ride on a Double Dutch Bus!
(Visited 2,737 times, 1 visits today)