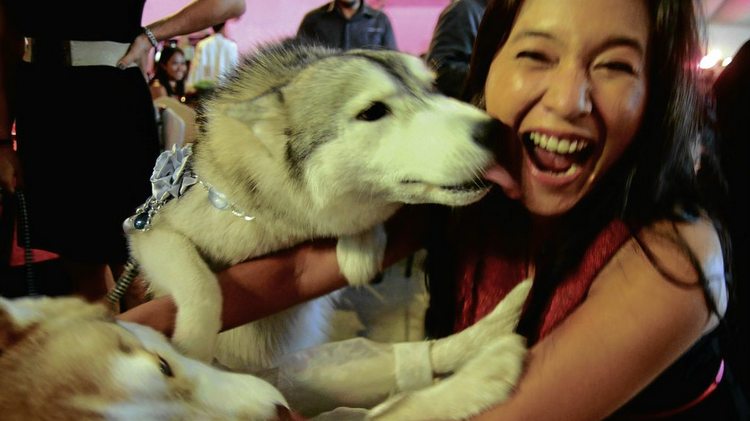 Four years ago, when we first moved to the city from the farm, that was the burning question. Who let the dogs out? It was about 10pm one evening when we returned home from Chicken Alley, listening to live bands, when we noticed our front gate was open. Our 2 dogs were missing. One dog was a Doberman and the other was a Gamboa, which is mixed St Bernard.
We went immediately to the barangay police station and 3 police officers followed us home. Our home had not been broken into and the door locks had not been tampered with. A 2 story house was under construction next door and the police were thinking that someone lowered themselves into our compound from there. The gate lock had been picked from the inside, which allowed someone to let our dogs out.
The next day, a cousin loaned us a Pit Bull as a guard dog and gave us a Belgian Malinois puppy. We named her Tasha. Once we trained Tasha and she grew larger, we returned the Pitt Bull to our cousin.
Should I bring Fido?
I know several Americans who shipped their dog to the Philippines when they made the move. One guy said it cost $800. Another guy said he paid $1,000 to ship his dog from the States to the Philippines. Yes, it can be done. Red tape and hoops to jump through but it is legal and possible.
Many will be surprised concerning all the different purebred dogs that are available in the Philippines. They are also cheaper than what you will pay in the USA. I understand fully that some are attached to their dogs back home and if that is the case, bring them with you. However, many breeds of dogs that are popular back home are also here in the Philippines.
According to the Philippines Canine Club, here are the Top 5 most popular dogs. Shih Tzu, Chihuahua, Pomeranian, Siberian Husky and Beagle.
If you search Facebook, you will find many dog clubs in the Philippines and many post puppies for sale.
A New Puppy
When my wife returned home today from picking up our son at school, they had a new puppy with them. It is a female, white colored Japanese Spitz. The wife of our son's Tagalog/Filipino language tutor gifted us with the puppy. It is very cute but right away, I was imagining a yelping puppy. So far, so good. Five hours later, the puppy is not yelping. I hope it stays that way through the night.
Dog Culture
The dog culture in the Philippines has changed over the past 29 years. Back in those days, most families had askals as pets. Askals are mongrel dogs, also referred to as street dogs. Many believe that askals are more resilient and street wise than purebreds. I can relate to that. We have a number of askals down at the farm as security dogs.
Nowadays, more and more families have a purebred dog as a pet or at least a dog with purebred lineage.
Yes, times have changed. Eating dog is not as popular as it was almost 30 years ago. In fact, it is outlawed.  You will still hear about some people in the countryside killing a dog for food but mostly among the poor and uneducated.
Some locals cage their dogs and treat them poorly but that is also against the law.
PAWS, Philippines Animal Welfare Society, prevents dog and other animal cruelty through education, animal sheltering and advocacy.
Many have discovered that breeding dogs is a viable business and an income booster if done as a sideline. We have a few in the family and among friends who are in this business. Others find raising dogs as pets an interesting hobby and something of interest.
In 2015, most Filipinos believe that dog is man's best friend.
(Visited 3,360 times, 1 visits today)