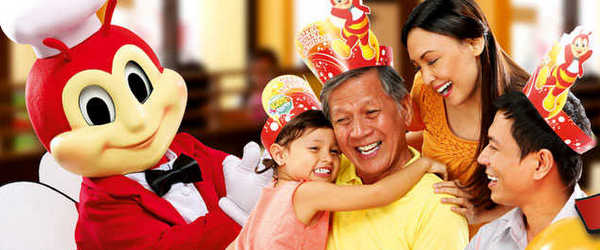 Garlic Bangus, Longganisa, and Palabok Fiesta. Those are a few of the Tagalog dishes on the menu at Jollibee Restaurant, which is a Filipino icon at home and abroad. Those Tagalog dishes are fried milk fish with garlic, Filipino style sausage and rice flour noodles with crab or fish sauce and garnished with small shrimp, ground pork skins, hard boiled eggs and chopped spring onions. Yum, yum, yummy! Palabok is one of my all time favorite Filipino dishes. Spaghetti is also on the menu at Jollibee but it is the sweet Pinoy style spaghetti and not my favorite Italian style.
Of course, there are many other popular menu items at Jollibee that are not Tagalog dishes. No need to be concerned, as all the workers who work the counters at Jollibee speak English, as it is a requirement for being hired since many expats enjoy eating at the Bee! You can order a bucket of fried chicken, known as Chicken Joy, which comes in regular flavor and hot & spicy. You can also order Hot Dogs, the Aloha Burger with pineapple, the large Champ Burger, Burger Steak with mushroom gravy and over EZ egg, Pork Steak, Grilled Pork Tenders, Chrisscut Zesty Cheese Fries, Macaroni Soup, Peach Mango Pie and 4 flavors of Flip Floats, loaded with ice cream. It doesn't sound bad does it? I think it all sounds pretty darn good!
Love or Hate The Bee
I have heard many expats complain about the food at Jollibee and I was one of those complainers at one time. No, Jollibee is not McDonald's, Burger King, Hardees, Wendy's, KFC, Hungry Jack's or any number of other fast food restaurants found in other countries. The food at Jollibee is geared toward the Filipino taste and the Filipino customer base. Jollibee has been around for a little longer than 35 years. They are not only in the Philippines but are also in locations in other countries where there is a large Filipino community, including California, USA. On Sunday in Hong Kong, it will be an all day affair to get a table at Jollibee, as thousands of Filipinas gather there to eat and socialize!
On a recent trip to Jomabo Island, off the coast of Negros Occidental, the resort restaurant was closed! Once we got back to the mainland, Jollibee was the only restaurant we recognized since we were new to that particular area. Let me tell ya, the Jollibee food really hit the spot! The bucket of chicken that we ordered was not the Colonel's but it was delicious.
Regardless of what other expats may say or tell you, I personally recommend that you check out Jollibee once you get to the Philippines. You be the judge! In my opinion, your Philippine experience will not be complete until you eat at the Bee! Jollibee is part of the Filipino Culture and many children fondly remember their birthday parties held at the Filipino fast food restaurant. I have eaten at Jollibee many times over the past 27 years and while it is not my favorite restaurant, it is far from my least favorite restaurants in the country.
The Jollibee mascot comes around the restaurants and the malls on a regular basis. It is alright to let him give you a hug. Actually, there may be a very attractive lady in that costume! Who knows?
(Visited 1,534 times, 1 visits today)