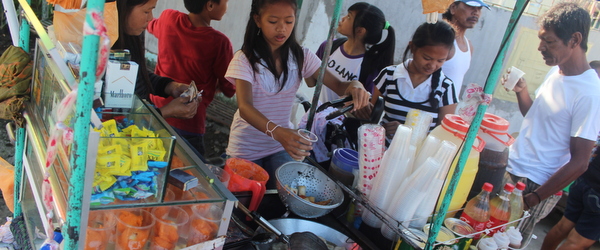 Street Food is a very important part of the Filipino Culture and it is also a very important part of the foreigner's experience in the Philippines. There are many different types of popular and locally affordable street foods in the Bacolod Area. My article is Negros Occidental specific, where I have lived for the past 6 years.
You will see large pots filled with Batchoy and bowls are as little as P25-P30 with some street vendors in and around Bacolod. Batchoy originated in La Paz, Iloilo but it is also very popular in Negros Occidental. There are many variations but basically, Batchoy is a fresh noodle soup dish with pork organ meat and garnished with chicharon or pork cracklings and chopped green onion. The Batchoy noodles are similar to thin spaghetti. It is certainly Negrense and Ilonggo comfort food. There are several commercial Batchoy chain restaurants but they are not only more expensive but the taste and quality is not as good as what you will buy from a mom and pop vendor, with their straight from scratch touch.
Kwek Kwek is hard boiled eggs, battered in an orange colored batter and deep fried. If quail eggs are used, this street food is known as Pugo in our area.
Feeling like some BBQ? One of my favorites. Pork, chicken, goat, squid and banana served on skewers. Near our farm, BBQ eel on skewers is popular. You will also see BBQ chicken feet.
Tempura is battered shrimp pieces, fish or squid. Kasugai Japanese style bread crumbs breading and deep fried. Popular around schools.
Siomai is one of the most popular street foods, which is a Chinese style stuffed dumpling with meat and/or veggies and are steamed or deep fried. Siopao is another one of my favorites, which has many variations. Filled steamed or baked buns. I prefer steamed siopao, filled with pork. Years ago, the sweet meat in Manila's Chinatown siopao was rumored to be cat meat. Ma Mon Luk on Quezon Avenue had the best siopao around, cat or not! It was Chinese owned but not located in Chinatown.
Fish Balls, Shrimp Balls and Squid Balls; formed into a ball, battered and deep fried.
Chicken or Pork Bulaklak is battered and deep fried intestines from a chicken or a pig. Don't think about what it is, just eat it and give it a review. I like it and you might like it too. Just don't eat too much.
Fried hot dog on a stick. Can be any brand of more than 30 different brands of hot dogs in our area. The Pure Food Hot Dogs are usually the most expensive and can be P20 each around malls. The cheaper brands, such as Winner, Vida and Bingo are usually P10-P12 each.
Taho is made from bean curd with sweet syrup and tapioca pearls added.
Green Mango served with choice of bagoong, which is shrimp paste, or rock salt. One of my first street foods to ever try more than 28 years ago in Manila.
Dirty Ice Cream has this name because it is not factory made but made in the home or in the back yard. It is not necessarily dirty.
Garlic fried peanuts, boiled peanuts, hot & spicy peanuts, peanut brittle and kasoy or cashews. All very cheap and popular.
Balut. Crack the egg, suck the juice, peel and eat with vinegar and/or salt. I don't eat the embryo. There is also Balut Adobo, which is made like any other adobo. Soy Sauce, Vinegar, Garlic and Bay Leaves.
There are other Bacolod Area street foods but my article covers the most popular and commonly seen.
As always, please use caution when eating street food, as you can become ill. We only buy from vendors we know and who we trust to handle the food properly in storage and with preparation. Very few times have we experienced gastrointestinal problems by following this rule of thumb.
Filipinos love to eat and most foreigners I know also love to eat. You can safely enjoy street food in the Philippines.
You Might Also Like...
(Visited 3,194 times, 1 visits today)