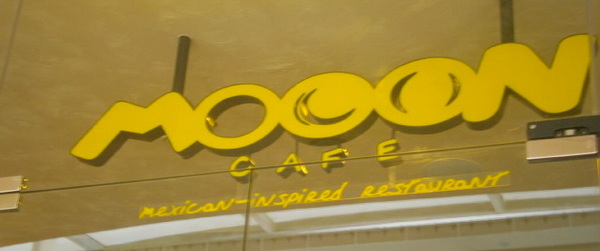 Mooon Cafe is among the Nuevo Wavo or New Wave brand of restaurants that are turning out quality Mexican style food at affordable prices in the Bacolod Area of the Philippines. I also like to refer to Mooon Cafe as a fusion restaurant, incorporating Southwestern, Tex-Mex and South of the Border recipes with local Filipino cuisine favorites. While not commercially geared toward the expat crowd, it is an attraction to many expats and I am not an exception!
When you talk to expats in the Bacolod Area, you will get mixed reviews about how they deem Mooon Cafe. I think some are disappointed because they are expecting authentic Mexican food, however, Mooon even touts that they are only Mexican inspired! Personally, I have enjoyed every time that we have dined at Mooon Cafe and we have taken a number of our American friends and family members there during their visits to Bacolod. All enjoyed their dining experience. Mooon Cafe is located in Robinsons City Walk, in the back of Robinsons Mall.
The atmosphere and decor at Mooon Cafe remind me of Chili's Bar and Grill in south Florida. It's nice! The wait staff have always been very good, so no complaints at all. There have always been many other customers at Mooon Cafe during our many dining experiences there and that is always a good sign! Few or no customers are not a good sign!
The one Mexican inspired dish that I really enjoy at Mooon Cafe is Tostaditas. This dish consists of 3 crispy corn tortillas that are topped with lettuce, ground beef, a small amount of refried beans, salsa, a little sour cream and shredded cheese.
Mooon Cafe also has the standard Mexican style dishes, aka Tex-Mex. Tacos, burritos, chimichanga and quesadillas, together with a few other Mexican inspired dishes that are not so well known.
Last weekend, I ordered the Mexican baby back ribs at Mooon Cafe and they were awesome! The ribs were a small rack with five bones intact! The ribs were very tender and had been marinated very well. The BBQ sauce was a little sweet but not overpowering. Without mentioning names, Mooon Cafe ribs were better than a few other restaurants in Bacolod which specialize in ribs! Seriously!
Mooon Cafe has a large and elaborate menu. There is also pizza, pasta, seafood and Filipino dishes available. Their crispy pata is highly regarded by locals. Cold beer is served! The Mooon Cafe bar staff can also whip up a few cocktails for you.
Just remember when you go to Mooon Cafe, you are not going to Senorita Conchita's Cantina, as found in the Mexican-American communities in the USA! Authentic Mexican food, no, inspired Mexican food, yes, at Mooon Cafe in Bacolod City. They also have branches in other cities in the Philippines. The food and drink prices are very affordable. Between the hours of 2pm-5pm, you may choose 2 items from a 5 item Mexican inspired menu for only P125. Non-alcoholic drink included. Now, if this is not a fabulous bargain for quality food, I don't know what is!
After my first trip to the Philippines, way back in 1986, friends asked me if American food is available in the Philippines. The answer was "YES" 27 years ago and today, you get just about anything you want to eat in the Philippines. Bacolod City has really become a Food Mecca in the Philippines. Foreign chefs are locating here more and more often every year to introduce their specialties to Filipinos and expats alike. Unlike in the large cities of the Philippines, the food and drinks in the City of Smiles will not cost you an arm and a leg!
You Might Also Like...