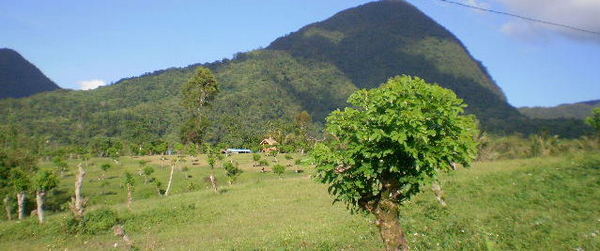 When most people think of the Philippines, they imagine being on one of the beautiful beaches but the Philippines is much more than the beach. Are you ready for a spectacular view of Negros Occidental, the sea and Panay Island? You can see all the beauty from Campuestohan Highland Resort, which is about 40 minutes from the downtown area, located on the border of Bacolod City and Talisay City. Pass through Barangay Granada in Bacolod City and follow the signs. It is an uphill ride to Campuestohan Highland Resort. Admission is P150 per head and includes use of the swimming pool. A cottage rental for the day starts at P600, which includes a BBQ grill. Campuestohan Highland Resort is such a wonderful place to spend the day during a family outing.
It is around ten degrees cooler at Campuestohan Highland Resort than it is in Bacolod City. A large newly built log house serves as the mountain resort hotel and for those on a cheaper budget, there are the igloo shaped cottages for overnight accomodations.
We availed one of the BBQ grills, which was included with the day cottage we rented, to prepare our food, however, Sinugba Restaurant is available for dining in or take out.
Among the fun activities at Campuestohan High Resort is horseback riding, swimming in the pool and there is a large children's playground.
What are you waiting for? Bring some already prepared food for a picnic, bring food to BBQ on the grill, order from Sinugba Restaurant or dine in and enjoy the fun in the cooler mountain temperatures of Campuestohan Highland Mountain Resort.
(Visited 1,910 times, 1 visits today)